Corporate-Level Strategy: Creating Value in the Multibusiness Company
ISBN: 978-0-471-04716-2
464 pages
September 1994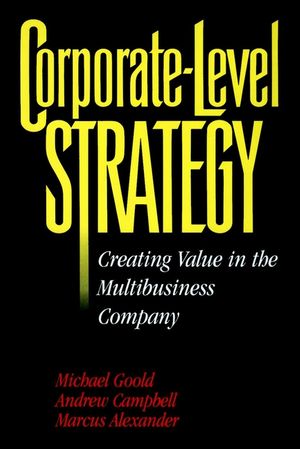 Advance praise for Corporate-Level Strategy. "At last a book that cuts through all the corporate jargon and academic generalizations to answer the question 'Does the corporate parent create or destroy value for the organization?' The authors suggest a simple yet compelling framework for making this determination. Must reading for students and practitioners alike." -Robert Cizik Chairman and Chief Executive Officer Cooper Industries "In an era when the role of corporate-level management is quite justifiably being questioned and challenged, it is refreshing to find a book that clearly shows how parent companies can add rather than destroy value in their businesses. As we would expect of these world class authorities, Goold, Campbell, and Alexander have leveraged their fascinating research findings into an eminently readable and highly practical book." -Chris Bartlett Professor Harvard Business School "A vital and deeply researched contribution to thinking about corporate strategy." -Gary Hamel London Business School "I am very impressed by the extensive work on which this book is based, and by the concept of parenting advantage that it puts forward." -Yasutaka Obayashi Senior General Manager, Corporate Strategy Canon "Great companies grow, they don't just cut. With breakups and restructuring done, corporate parenting is coming back. Goold, Campbell, and Alexander have produced a comprehensive and intelligent book which should become a standard guide on the subject." -Tom Hout Vice President The Boston Consulting Group "A perceptive and valuable insight into an often underestimated area of strategy. This book clearly demonstrates the importance of parenting to the longer term development and prosperity of multibusiness companies." -Alan R. Jackson Chief Executive, BTR "I am glad someone has so well and so fully shed light on this important body of thinking." -Sigurd Reinton Director, McKinsey & Company, 1981-1988
See More
CORPORATE STRATEGY AND PARENTING ADVANTAGE.

Corporate Strategy: The Issues.

Parenting Advantage: The Framework.

Questions About Parenting Advantage.

Corporate Strategy: The Background.

SUCCESSFUL CORPORATE STRATEGIES.

How Parents Create Value.

Stand-Alone Influence.

Linkage Influence.

Functional and Services Influence.

Corporate Development.

The Evolution of Corporate Strategies.

Successful Corporate Strategies.

DEVELOPING A CORPORATE STRATEGY.

Developing a Corporate Strategy: Overview.

Developing Corporate Strategy: An Example.

Decisions About the Portfolio.

Decisions About the Parent.

Putting Parenting Advantage into Practice.

Appendices.

Index.
See More
MICHAEL GOOLD, ANDREW CAMPBELL, and MARCUS ALEXANDER are directors of the Ashridge Strategic Management Centre in London. The Centre is dedicated to research and consulting with multibusiness companies. It is part of the Ashridge Trust, one of the world's top centres for executive education and development. The authors were previously strategy consultants with either the Boston Consulting Group or McKinsey & Co., and have written numerous books for the senior management audience, including Strategies and Styles, Strategic Control, A Sense of Mission, Mission and Business Philosophy, Strategic Synergy, and Wake Up & Shake Up Your Company.
See More