Textbook
Your Hospitality Field Experience: A Student Workbook
ISBN: 978-0-471-05327-9
304 pages
October 1995, ©1995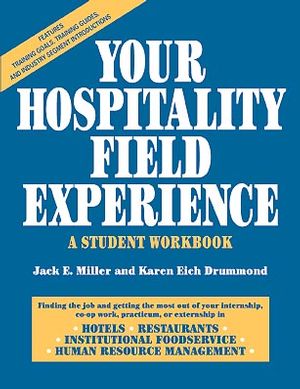 Make sure your field experience is everything it ought to be with this gold mine of expert tips and guidance
Congratulations! You are about to embark on what will be one of the most exciting (and demanding) phases of your hospitality training—your field experience, including internships, externships, co-ops, and practicums. This is your first chance to acquire real experience in the hospitality industry and begin to develop true professional competence. It can also be your first major professional stepping-stone, providing valuable references and contacts that will help launch your career. This easy-to-use workbook helps you make the most of your internship. Written by authors with more than fifty years combined experience preparing students for careers in hospitality and foodservice management, it helps you land a job that perfectly matches your career goals and ensures that your first professional experience is as educationally enriching as possible.
Here's how it works:
A total job-search guide helps you define your career goals, locate prospective employers, write winning resumes, and ace interviews. Comes complete with career goal worksheets, sample resumes, cover and follow-up letters, and many other valuable tools.
Introductory Worksheets help you see the big picture of the hotel, restaurant, or foodservice where you will work.
Training Goals help you identify all important job functions that you need to learn about during your work experience.
Training Guides—comprehensive lists of job-related questions—help you focus your learning; correlate classroom theory with real-world work experience; involve your supervisor in the instruction process; expand your knowledge of the departments where you spend little or no time; and more.
Make sure your field work earns you more than just two credits toward your major with Your Hospitality Field Experience.
See More
Getting a Job.

Training Goals and Training Guides for Hotels.

Training Goals and Training Guides for Restaurants and Foodservices.

Introductory Worksheets for Institutional Foodservices.

Training Goals and Training Guides for Hospitality Human Resource Management.
See More
JACK E. MILLER, FMP, is Professor Emeritus and past chair of the Hotel, Restaurant, Chef's Apprentice, and Tourism Program, St. Louis Community College. Mr. Miller is also coauthor of Basic Food and Beverage Cost Control (Wiley).

KAREN EICH DRUMMOND, FMP, RD, is a foodservice consultant and writer. She is also the former coordinator of the HRIM program at Mercer County Community College, Trenton, New Jersey, and author of The Restaurant Training Program (Wiley). Jack E. Miller and Karen Eich Drummond coauthored Supervision in the Hospitality Industry, Second Edition (Wiley).
See More