The Man Who Beats the S&P: Investing with Bill Miller
ISBN: 978-0-471-05490-0
262 pages
April 2002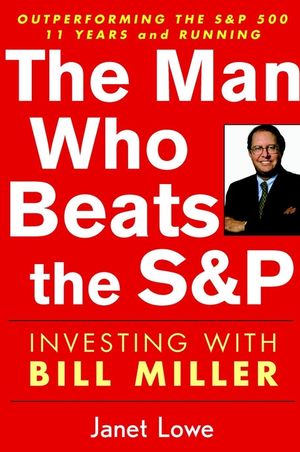 Learn value investing through the strategies and techniques of the Investment Portfolio Manager of the decade
In the only value investing book focused on value investor Bill Miller, the manager of the $11.6 billion Legg Mason Value Trust, Janet Lowe examines the techniques that have earned Miller celebrity status among investors and his peers. By taking the classic concept of value investing and catapulting it into the twenty-first century, Bill Miller has become a role model for those who wish to learn how to recognize value in today's new and emerging markets. Readers will be introduced to Miller's belief that "the value of any equity depends on the future, not the past." This idea has made him one of the most well regarded value investors in the mutual fund arena and the only manager of a diversified fund to beat the Standard & Poor's 500 for ten years in a row. Through this book, readers will come to understand America's new money master and his investing philosophy of looking beyond the obvious numbers. They will also learn Miller's computerized value matrix and other mathematical tools, while implementing the cutting-edge approach he uses when value investing. Packed with insights and advice, this comprehensive guide to value investing is sure to fill the needs of many investors.
See More
Introduction.

1. Bill Miller: The Go-To Guy for New Economy Value Investing.

A Way of Thinking.

The Art of Valuation.

Portfolio Management.

New Economy Valuation.

The High Tech and Regulation in Brief.

Old- Economy Valuation.

Conclusion.

Appendix 1: Legg Mason Value Trust Fund Holdings.

Appendix 2: Bill Miller and Legg Mason Mutual Funds Chronology.

Appendix 3: Web Addresses.

Appendix 4: Charts.

Notes.

Glossary.

Suggested Reading.

Index.
See More
JANET LOWE is an investment/business writer and the author of several bestselling business books including Damn Right!: Behind the Scenes with Berkshire Hathaway Billionaire Charlie Munger, Warren Buffett Speaks, and Welch: An American Icon, all from Wiley. More than 200 of her freelance business articles have appeared in such publications as Newsweek, the Los Angeles Times, and the San Francisco Chronicle.
See More