Microclimatic Landscape Design: Creating Thermal Comfort and Energy Efficiency
ISBN: 978-0-471-05667-6
208 pages
August 1995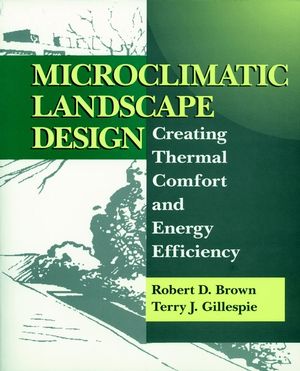 Creating Thermal Comfort and Energy Efficiency

Microclimatic Landscape Design shows designers how to work with nature to create climatically pleasant spaces for human activities. With remarkable clarity, it covers both the scientific background and the design techniques needed for shaping spaces that increase comfort and reduce energy consumption. This comprehensive, environmentally-sensitive guide:
* Presents the basic principles of microclimatology and explains how objects in the landscape affect climate to create microclimates
* Describes methods for modifying the key variables in a microclimate, including radiation, wind, temperature, humidity, and precipitation
* Shows how to create successful, comfortable spaces under a wide variety of climatic conditions
* Explains energy budgets and the effects of landscape on energy use in buildings
* Includes useful formulas for determining human thermal comfort, estimating solar radiation absorbed by a person, and estimating wind in a given landscape


For landscape architects, architects, contractors, and planners, Microclimatic Landscape Design is a concise, practical, and indispensable guide to improving the comfort of outdoor spaces and reducing the heating or cooling loads on buildings.
See More
Conceptual Framework.

Atmospheric Systems.

Microclimatology and Energy Budgets.

Human Thermal Comfort.

Energy Conservation in Buildings.

Radiation Modification.

Wind Modification.

Temperature, Humidity, and Precipitation Modification.

Integrating Microclimate Information in Design.

Appendices.

Suggested Readings.

Index.
See More
ROBERT D. BROWN is Associate Professor and Coordinator of Graduate Studies in the School of Landscape Architecture, University of Guelph, Canada, where he also received his MLA and PhD in micrometeorology. Dr. Brown maintains active teaching and research programs and is a frequent contributor to the professional literature.

TERRY J. GILLESPIE is Professor in the Department of Land Resource Science at the University of Guelph, where he also received his PhD in meteorology. Dr. Gillespie has received numerous teaching awards, including the prestigious John Bell Award, and was recognized as Canadian Professor of the Year.
See More