Textbook
Conversational Spanish for Hospitality Managers and Supervisors: Basic Language Skills for Daily Operations
ISBN: 978-0-471-05959-2
304 pages
August 1995, ©1995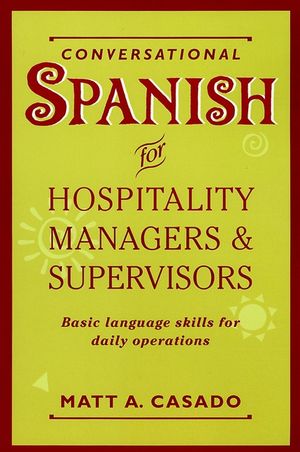 Indispensable for hospitality managers who need to communicate effectively with their Spanish-speaking employees, this unique book gives you the basic Spanish language skills you need at work every day. You'll quickly learn Spanish phrases, questions, and instructions that you can use immediately—in all the areas of your daily operations. This concise but comprehensive book gives you all the tools you need:
Common dialogues in Spanish for the full range of hospitality occupations, including housekeeping, restaurant, kitchen, and engineering
Useful phrases, including greetings, introductions, time, numbers, the calendar, and more
Position descriptions and hotel and restaurant operating procedures in Spanish
Interviewing vocabulary and general personnel office dialogues
A brief overview of Spanish grammar basics and an easy-to-use pronunciation guide
A model Spanish-language employee manual
Handy, English-Spanish/Spanish-English hospitality dictionaries
See More
Pronunciation.

Essential Grammar.

Common Expressions.

At the Personnel Office.

The Housekeeping Department.

The Engineering Department.

The Restaurant.

The Kitchen.

The Employee Handbook (Sample).
See More
MATT A. CASADO, EdD, is Assistant Professor in the School of Hotel and Restaurant Management at Northern Arizona University. He is the author of Food and Beverage Service Manual, also published by Wiley.
See More