J.K. Lasser's Winning Ways to Save for College
ISBN: 978-0-471-06105-2
240 pages
April 2002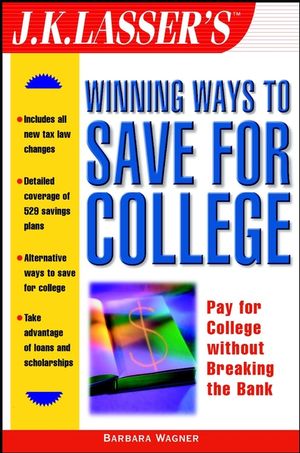 SENSIBLE WAYS TO SAVE FOR COLLEGE

From tuition and books to room and board, the cost of college is staggering-and it isn't getting any cheaper. What you're saving today may not be enough to cover the cost of your child's college education tomorrow.

J.K. Lasser's Winning Ways to Save for College provides the most straightforward, tax-efficient strategies to save for your children's college education-whether they're eight months old or eighteen years old. Even if you've worked out how much money you need to save, you still need to make many other important decisions, such as how that money will be invested, the tax consequences of those investments, and how that investment portfolio should change over time. Don't wait! The faster you start saving, the sooner you can stop worrying.

Key coverage will help you:
* Choose the investments that fit into your college savings plan-stocks, bonds, mutual funds, CollegeSure CDs, and U.S. Treasury Bills
* Use educational savings provisions in the Economic Growth and Tax Relief Reconciliation Act of 2001 to speed up the growth of your college savings
* Understand how 529 savings plans stack up to prepaid plans, Education IRAs, UGMAs, and UTMAs
* Select a financial planner who will help you plot a strategy for college savings
* Apply for financial aid such as grants, loans, work-study jobs, and scholarships


J.K. Lasser--Practical Guides for All Your Financial Needs

Please visit our Web site at www.jklasser.com
See More
Introduction.

The Cost of a College Education.

Where to Stash Your College Funds.

Building a College Fund.

State-Sponsored Tuition Savings Plans.

Getting Professional Help.

Reducing the Tab.

Applying for Financial Aid.

The Search for Scholarship Money.

Smart Borrowing.

Afterword.

Glossary.

Index.
See More
BARBARA WAGNER is a business writer and author of 10 Minute Guide to Working with Financial Advisors, How Can I Ever Afford Children? Money Skills for New and Experienced Parents (Wiley), and Smart Guide(TM) to Maximizing Your 401(k) Plan (Wiley). Her work has also appeared in BusinessWeek and Working Mother magazine.
See More