The Handbook of Risk
ISBN: 978-0-471-06412-1
274 pages
January 2003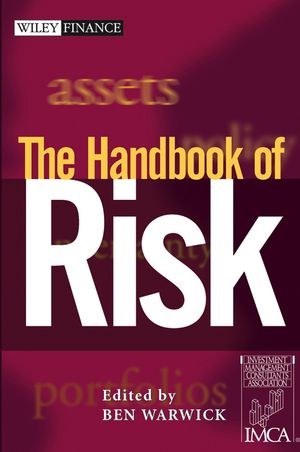 The ultimate source for risk management information
Before entering into any investment, the risk of that venture must be identified and quantified. The Handbook of Risk provides in-depth coverage of risk from every possible angle and illuminates the subject by covering the quantitative and and behavioral issues faced by investment professionals on a day-to-day basis. This valuable reference offers a prescriptive and descriptive treatment of risk management for those looking to control, contain, and minimize the risk of their investments.
The Handbook of Risk is also a perfect companion for professionals looking to complete IMCA certification courses.
Ben Warwick (Denver, CO) is the "Market View" columnist for worldlyinvestor.com and Chief Investment Officer of Sovereign Wealth Management, Inc. He has written numerous books, including The WorldlyInvestorGuide to Beating the Market (Wiley: 0471215317), and Searching for Alpha (Wiley: 0471348228). IMCA (The Investment Management Consultants Association) is a professional association established in 1990 that represents the investment consulting profession in the United States and Canada.
Over the years, financial professionals around the world have looked to the Wiley Finance series and its wide array of bestselling books for the knowledge, insights, and techniques that are essential to success in financial markets. As the pace of change in financial markets and instruments quickens, Wiley Finance continues to respond. With critically acclaimed books by leading thinkers on value investing, risk management, asset allocation, and many other critical subjects, the Wiley Finance series provides the financial community with information they want. Written to provide professionals and individuals with the most current thinking from the best minds in the industry, it is no wonder that the Wiley Finance series is the first and last stop for financial professionals looking to increase their financial expertise.
See More
Preface.
PART I: THE NATURE OF RISK.
The Failure of Invariance (P. Bernstein).
Inverted Reasoning and Its Consequences: Confusing the Present with the Future Discounting (G. Seldin).
A New Paradigm for Portfolio Risk (R. Jeffrey).
The Likelihood of Loss (M. Kritzman).
PART II: MEASURING RISK.
A Convenient Measure of Risk (R. Clarke).
Forecasting Financial Risk (J. Bilson).
Downside Risk (D. Nawrocki).
Measuring Risk for Asset Allocation, Performance Evaluation, and Risk Control: Different Problems, Same Solution (C. Culp).
Model Risk (E. Derman).
Technology and the Capital Markets (B. Warwick).
Horizon Problems and Extreme Events in Financial Risk Management (P. Christoffersen, F.X. Diebold and T. Schuermann).
PART III: INVESTMENT MANAGERS' VIEWPOINTS.
A Behavioral Framework for Time Diversification (M. Stateman & K. Fisher).
Converging Correlations and Market Shocks: Implications for Managing Risk (L. Llanes).
Investing on the Edge of Chaos (M. Howell).
Hedge Fund Risk (B. Cornell).
The Risks of Alternative Strategies (B. Cornell).
The Risk of Informationless I nvesting: Hedge Fund Performance (A. Weisman).
Index.
See More
BEN WARWICK is Chief Investment Officer of Sovereign Wealth Management, Inc., a registered investment advisory firm that employs sophisticated wealth management strategies on behalf of institutional investors and high-net-worth families throughout the United States. Mr. Warwick received his BS degree in chemical engineering from the University of Florida and his MBA from the University of North Carolina.
The INVESTMENT MANAGEMENT CONSULTANTS ASSOCIATION (IMCA) is a nonprofit organization with members in the United States, Canada, Britain, Asia, and Australia that promotes education, ethics, and standards for the investment consulting profession. The association's 5,000 members benefit from peer networking opportunities, information sharing, and cutting-edge forums on risk management, portfolio construction, and practice management. IMCA's Certified Investment Management Analyst designation assures clients of a consultant's expertise and commitment to professional ethics. IMCA Practice Standards, Performance Reporting Standards, and Questionnaires for Investment Managers offer practical guidelines to members seeking to enhance their client relationships. The semiannual Journal of Investment Consulting publishes original research and in-depth articles on investment theory and practice, and The Monitor, a bimonthly membership publication, informs members of the latest news on industry trends and investment strategies. IMCA also publishes regular updates on important legislation and regulatory developments in Washington, D.C., and the fifty states through the association's Legislative Network.
See More