Textbook
Structural Geology: An Introduction to Geometrical Techniques, 3rd Edition
ISBN: 978-0-471-08043-5
416 pages
January 1985, ©1984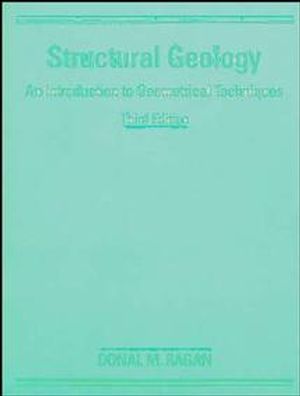 A revised and expanded edition presenting a modern introduction to geometrical techniques used in structural geology--designed for a one-semester basic course. Incorporating the latest techniques developed since publication of the second edition, it includes a new chapter on thrust faults, an integrated discussion of the accuracy of field measurements, many worked-out problems, and a new appendix on spherical trigonometry.
See More
Attitude of Structural Planes.

Thickness and Depth.

Planes and Topography.

Lines and Intersecting Planes.

Graphic Solutions with the Stereonet.

Faults.

Stress.

Faults and Stresses.

Concepts of Deformation.

Strain in Rocks.

Description and Classification of Folds.

Parallel Folds.

Similar Folds.

Folds and Topography.

Linear and Planar Structures in Tectonites.

Structural Analysis.

Drill Hole Data.

Structural Contours.

Maps and Cross-Sections.

Block Diagrams.

Appendixes.

Index.
See More