Textbook
Entrepreneurial Finance: A Casebook
ISBN: 978-0-471-08066-4
704 pages
December 2001, ©2002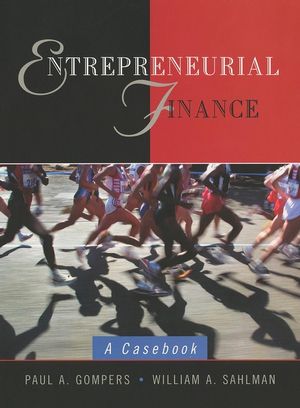 Entrepreneurial Finance: A Casebook provides students with a thorough understanding of entrepreneurial finance through the use of cases based on realistic situations. This case approach allows students to gain insight into the real world of entrepreneurial finance while sharpening their analytical skills. The cases are organized according to four major topics critical to a thorough understanding of entrepreneurial finance: Investment Analysis, Financing the Entrepreneurial Firm, Harvesting, and Renewal in the Entreprenurial Firm.
See More
SECTION I. INVESTMENT ANALYSIS

Module I.A. SOURCES OF VALUE.

1. Introduction to Entrepreneurial Finance.

2. The Knot.

3. Beta Group.

4. Cachet Technologies.

5. Some Thoughts on Business Plans.

6. NSK Software Technologies Ltd..

MODULE I.B. UNDERSTANDING FINANCIAL STATEMENTS AND PRO FORMA MODELS.

7. Tutor Time (A).

8. Fenchel Lampshade Company.

MODULE I.C. PURCHASING FIRMS, BUYOUTS, AND VALUATION.

9. A Note on Valuation in Entrepreneurial Ventures.

10. Digital Everywhere, Inc.

11. The Carlton Polish Company.

12. Record Masters

MODULE I.D. REAL OPTIONS.

13. Capital Projects as Real Options: An Introduction

14 Penelope's Personal Pocket Phones.

15. E-ink: Financing Growth

16. Genset: 1989.

SECTION II. FINANCING THE ENTREPRENEURIAL FIRM:

MODULE II A. VENTURE CAPITAL.

17. A Note on Private Equity Securities.

18. edocs, Inc. (A)

MODULE II.B. ANGEL FINANCING.

19. A Note on Angel Financing.

20. Honest Tea

MODULE III.C. VENTURE LEASING.

21. Note on the Venture Leasing Industry.

22. Efficient market services: August 1993 (A).

MODULE II.D. FRANCHISING.

23. A Note on Franchising.

24. Tutor Time (B).

MODULE II.E. BANKS.

25. Xedia and Silicon Valley Bank (A).

MODULE III.F. LICENSING/STRATEGIC ALLIANCE.

26. A Note on Strategic Alliances.

27. Parenting magazine.

MOCULE II.G. GOVERNMENTS FINANCING

28. A Note on Government Sources of Financing for Small Businesses.

29. Torrent Systems.

SECTION III. HARVESTING :

MODULE III.A. INITIAL PUBLIC OFFERINGS.

30. A Note on the Initial Public Offering Process.

31. Amazon.com--Going Public.

32. Arthrocare.

MODULE III.B. ACQUISITIONS.

33. Nantucket Nectars.

34. HIMs Corp, Inc.

SECTION IV. RENEWAL IN THE ENTREPRENEURIAL FIRM.

35. Dell Ventures.

Glossary.

Index
See More
Paul A. Gompers
, Professor of Business Administration and Director of Research at the Harvard Business School, specializes in research on financial issues related to venture capital and private equity funds as well as start-up, high growth, and newly public companies. He has published numerous professional papers in academic journals and is co-author of the Venture Capital Cycle and The Money of Invention.
William A. Sahlman is the Dimitri V. d'Arbeloff Class of 1955 Professor of Business Administration at Harvard Business School. His writings have been widely published in a variety of academic and business journals. He first introduced the entrepreneurial finance course at the Harvard Business School in 1985.
See More
Gompers and Sahlman are two of the leading researchers and authorities in this field.
The book can be used as a supplement in an entrepreneurial finance course, or as a main text in a case-approach course.
See More
Instructors Resources
Contact your Wiley Representative
Find Your Rep

See More
See Less