Developing Web Applications with Visual Basic.NET and ASP.NET
ISBN: 978-0-471-08517-1
Paperback
400 pages
April 2002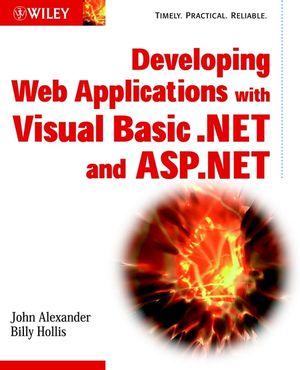 This title is out-of-print and not currently available for purchase from this site.
Other Available Formats:
E-book
Acknowledgments.

Introduction.

About the Authors.

Chapter 1. Getting Your Feet Wet with .NET.

Chapter 2. The Development Environment and Language Changes.

Chapter 3. Object-Oriented Changes in Visual Basic .NET.

Chapter 4. Introduction to Web Application Development.

Chapter 5. ASP.NET Pages and Web Forms.

Chapter 6. Using ASP.NET Web Controls.

Chapter 7. Web Services: Family Fun with XML, SOAP, and WSDL.

Chapter 8. ASP.NET Data Access Topics.

Chapter 9. ASP.NET Web Application Services.

Chapter 10. ASP.NET Application: A Walkthrough.

Appendix A: .NET Framework Class Library References.

Appendix B: Resources.

Index.