Treatment Approaches with Suicidal Adolescents
ISBN: 978-0-471-10236-6
320 pages
April 1995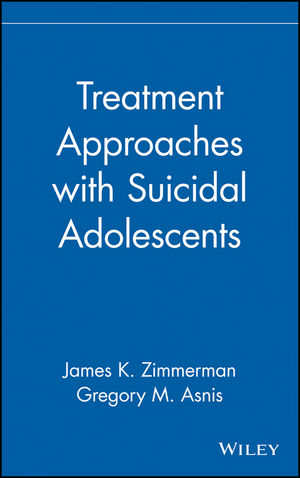 This practical guide reviews current knowledge regarding the biological, psychological and social risk factors for adolescent suicide. Contains clinical guidelines for a variety of treatment modalities such as crisis intervention; psychopharmacological management; intervention; family-centered, psychodynamic, cognitive/behavior and group therapies. Features a program for increasing adolescent participation in outpatient therapy and considers possible future directions of treatment.
See More
Partial table of contents:

Treating Suicidal Adolescents: Is It Really Worth It?

(J. Zimmerman).

Suicidal Behavior in Adolescents: A Review of Risk and Protective Factors (D. Grosz, et al.).

DIAGNOSIS, ASSESSMENT, AND CRISIS INTERVENTION.

Assessment and Prediction of Suicide Risk in Adolescents (A. Leenaars & D. Lester).

Crisis Intervention with Suicidal Adolescents: A View from the Emergency Room (R. Catenaccio).

Immediately After the Attempt: Evaluation and Brief Therapy on a Medical Ward (E. Dulit).

TREATMENT.

Psychodynamic Treatment of Adolescent Suicide Attempters (D. Jobes).

Group Treatment of Suicidal Adolescents (S. Aronson & S. Scheidlinger).

Adolescent Suicide: Diagnosis, Psychopharmacology, and Psychotherapeutic Management (J. Kahn, et al.).

CONCLUSION.

Summary and Future Directions (J. Zimmerman).

Indexes.
See More