1101 Businesses You Can Start From Home, Revised and Expanded Edition
ISBN: 978-0-471-10241-0
352 pages
December 1994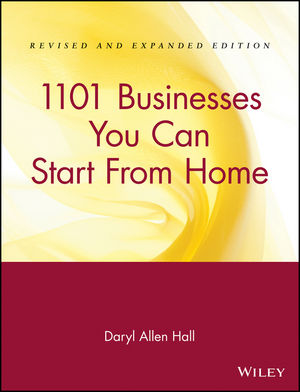 Be Your Own Boss. Make Your Own Hours. Make More Money. Rely on Your Own Ingenuity and Initiative: Work at Home.

Whatever your dream of self-employment, this idea-packed guide will show you how to make it come true. Its practical, down-to-earth advice will help you join the millions of independent-spirited people like you who have decided to invest in themselves and run their own home-based businesses. Armed with the information in this book, you'll be able to take that first step toward independence, gain control of your own work life, and reap and keep ALL the fruits of your labors.

Now in a new, expanded second edition, 1101 Businesses You Can Start From Home:
* Gives you 1101 money-making business ideas you can tailor to your own interests, needs, and circumstances--from the mainstream to the highly unusual--in 33 easy-to-use sections. Just reading through them may spark the exact business arrangement you've been looking for.
* Describes each job in detail--its potential income, start-up costs, physical challenges, legal restrictions, and location requirements--information that will save you a fortune in time and money spent on research.
* Helps you narrow your choices by showing you how to weigh such factors as personal preferences, time and money commitment, space requirements, and the advantages and disadvantages of different types of businesses. You will go in with your eyes wide open, and increase your chances for success.
* Offers an abundance of practical business tips on loans, advertising, pricing, sales techniques, building a client base, bookkeeping, insurance, and legal issues.
* Now includes 130 new business ideas, including entrepreneurial consultant, missing persons service, writing business plans, senior day care, computer recycling--and more! Why wait any longer? With the guidance of this invaluable book, you can start on the road to self-employment today.
See More
Ads.

Animals.

Appliances.

Artist.

Automotive.

Children.

Cleaning.

Crafts.

Entertainment.

Food.

Health.

Horticulture.

Household.

Housing.

Instruction.

Mail Order.

Manufacturing.

Novelties.

Pets.

Photography.

Printing.

Real Estate.

Recreation.

Repairs.

Retail.

Security.

Sewing.

Special Services.

Telephone.

Travel.

Typing.

Vending and Jobbers.

Writing.
See More
DARYL ALLEN HALL is a successful entrepreneur, based in Canada, who has owned and operated several small businesses. He has been an Air Force pilot, a teacher, and a school principal. He is the author of the popular first edition of this book, 1001 Businesses You Can Start From Home, also published by Wiley.
See More