Income Statements
ISBN: 978-0-471-10383-7
296 pages
May 1995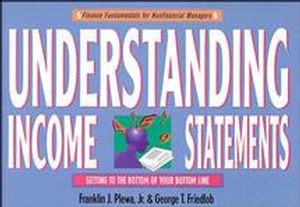 Designed as the ideal tutor, refresher and reference source for the nonfinancial manager. Step-by-step guidance enables readers to quickly learn the basics of income statements, cash flow, ROI and budgeting. Details gross margins, production costs, overhead, allocations, net income and much more.
See More
The Accounting Process.

Beginning with Business Cash Flows--An Illustration.

General Purpose Financial Statements--An Illustration.

The Balance Sheet--An Illustration.

Illustrative Income Statement and Statement of Cash Flows.

Accounting Conventions and Assumptions.

The Income Statement.

Operating Revenues.

Cost of Goods Sold and Operating Expenses.

Manufacturing Costs.

Process Costs and Standard Costs.

Inventory Flows to Cost of Goods Sold.

Depreciation, Depletion, and Amortization.

Nonoperating Revenues and Expenses Including Income Taxes, Discontinued Operations, Extraordinary Items, and Accounting Changes.

Earnings Per Share.

The Income Statement, Owners' Equity, and Retained Earnings.

The Income Statment and the Statement of Cash Flows.

Mergers and Consolidated Income Statments.

Contents of the Annual Report.

Content of the Annual Report--Footnotes and Supplementary Information.

Comparative Analysis.

Ratio Analysis.

The Quality of Earnings.

Income Statements of Foreign Companies.

Index.
See More