Value Retailing in the 1990s: Off-Pricers, Factory Outlets, & Closeout Stores
ISBN: 978-0-471-10915-0
171 pages
December 1994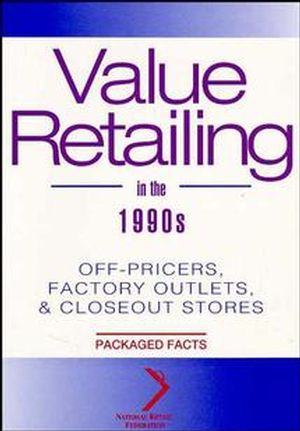 A wealth of data, information, and insights into the fastest-growing segment of the retail industry.

The late 1980s and early 1990s were tough times for retailers as recession-wary consumers became more cautious in their spending habits. For one retail segment, however, these were boom years, bringing increased market share and annual growth rates of 10% to 15%. Value retailers rose from their niche status to lure cash-poor consumers away from larger competitors by offering name brand, quality merchandise at prices at least 25% below regular retail. They are now poised to make the most of improving economic conditions.

This unique study provides in-depth information on every aspect of this $60 billion segment of the retail industry, from its history and evolution, to the factors and trends that have contributed to the phenomenal growth of recent years, to the prospects for future growth. It offers a broad view of the industry as a whole and then zeroes in for a detailed look at each of the major store categories: off-pricers, factory outlets, and closeout stores. Numerous charts and tables define and trace the development of trends, while insightful commentary explains their impact on the state and future of the industry.

And that's not all--trend profiles of the leaders in each category give you a close-up view of the strategies and tactics that have contributed to the runaway success of such celebrated winners as Toys "R" Us, Marshalls, Home Depot, Staples, Liz Claiborne, Nike, Sears Outlet, and Everything's A $1.00. You will learn how they succeeded against traditional retailers and how they have adapted to challenges from competitors, new and old, trying to beat them at their own game.

This comprehensive report includes:
* A detailed exposition of the current trends in the U.S. retail market and their impact on value retailers
* Analysis of factors and trends affecting the future of the value retailing industry
* Detailed information on the size and growth, composition, and competitive situation of the value retail industry as a whole, its three main categories, and numerous subcategories such as apparel, sporting goods, and toys
* Trend profiles of leading retailers in each category, including Toys "R" Us, The Gitano Group, Consolidated Stores Corp., and many more
See More
The Current Value Retailing Market.

Off-Pricers.

Factory Outlet Stores.

Closeout Stores.

Appendices.

Index.
See More
PACKAGED FACTS, a New York-based market research company, is a division of Find/SVP, a worldwide consulting and research firm. Founded in the early 1960s as one of the first "information services," Packaged Facts is today a leading publisher of syndicated market studies, and one of the few to cover consumer markets. It currently publishes more than 40 market studies a year.
See More