Science Around the World: Travel through Time and Space with Fun Experiments and Projects
ISBN: 978-0-471-11916-6
96 pages
April 1996, Jossey-Bass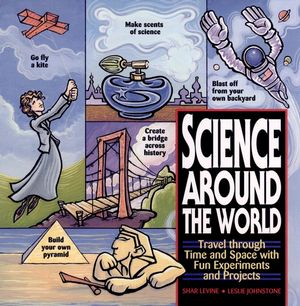 Join the international community of scientists and explore the world's most exciting discoveries . . .

Build a simple machine like the ancient Egyptians might have used to build the pyramids. Construct your own rocket thrusters to simulate those used by U.S. astronauts. Make your own paper using a 2,000-year-old recipe from China.

These are just some of the exciting projects you'll find in Science around the World, a fun and fact-filled book of experiments and activities highlighting scientific discoveries from throughout history that shaped the way we live. Travel from England to Australia, Germany to Japan, Mexico to Canada, as you explore some of history's most famous moments in physics, chemistry, biology, geology, and more. Each experiment includes a list of required materials, illustrations, and easy-to-follow, step-by-step instructions.
See More
Egypt.

China.

Mexico.

Germany.

United Kingdom.

Canada.

Japan.

United States.

Russia.

Australia.

Glossary.

Index.
See More
SHAR LEVINE and LESLIE JOHNSTONE (Vancouver, British Columbia) are coauthors of the award-winning Everyday Science and Silly Science. Shar Levine is also the coauthor of Projects for a Healthy Planet and Einstein's Science Parties.
See More