Common Stocks and Uncommon Profits and Other Writings
ISBN: 978-0-471-11928-9
288 pages
June 1996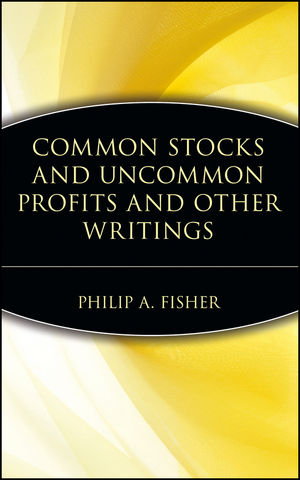 "You will find lots of jewels in these pages that may do as much for you as they have for me."-from the Introduction by Kenneth L. Fisher Forbes columnist

Widely respected and admired, Philip Fisher is among the most influential investors of all time. His investment philosophies, introduced almost forty years ago, are not only studied and applied by today's finance professionals, but are also regarded by many as gospel. He recorded these philosophies in Common Stocks and Uncommon Profits, a book considered invaluable reading when it was first published in 1958, and a must-read today.

Acclaim for Common Stocks and Uncommon Profits

"I sought out Phil Fisher after reading his Common Stocks and Uncommon Profits...When I met him, I was impressed by the man as by his ideas. A thorough understanding of the business, obtained by using Phil's techniques...enables one to make intelligent investment commitments."-Warren Buffett

"Little known to the public, rarely interviewed and accepting few clients, Philip Fisher is nevertheless read and studied by most thoughtful investment professionals . . . everyone will profit from pondering-as Warren Buffett has done-the investment principles Fisher espouses."-James W. Michaels Editor, Forbes

"My own copy [of Common Stocks and Uncommon Profits] has underlinings and marginal thoughts throughout."-John Train Author of Dance of the Money Bees
See More
Partial table of contents:

COMMON STOCKS AND UNCOMMON PROFITS.

Clues from the Past.

When to Buy.

The Hullabaloo About Dividends.

How I Go About Finding a Growth Stock.

CONSERVATIVE INVESTORS SLEEP WELL.

The First Dimension of a Conservative Investment--Superiority in Production, Marketing, Research, and Financial Skills.

The Second Dimension--The People Factor.

The Third Dimension--Investment.

The Fourth Dimension--Price of a Conservative Investment.

DEVELOPING AN INVESTMENT PHILOSOPHY.

Origins of a Philosophy.

Learning from Experience.

The Philosophy Matures.

Key Factors in Evaluating Promising Firms.

Appendix.

Index.
See More
PHILIP A. FISHER began his career as a securities analyst in 1928, and founded Fisher & Company, an investment counseling business, in 1931. He is known as one of the pioneers of modern investment theory.
See More