The Healthy Prostate: A Doctor's Comprehensive Program for Preventing and Treating Common Problems
ISBN: 978-0-471-11982-1
256 pages
February 1996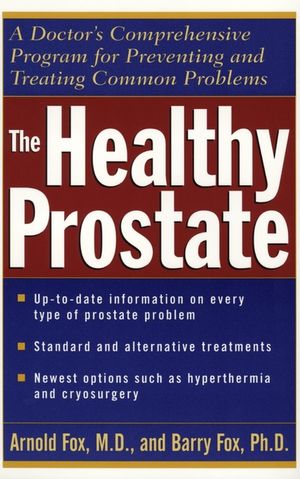 This breakthrough book is a medical doctor's proven prescription for a healthy prostate. Arnold Fox, M.D., who has successfully treated prostate problems for over forty years, speaks directly to your vital concerns, including:
* Early symptoms of prostate problems and what to do about each type
* The full range of traditional and alternative treatments available, notably the best drug-free, nonsurgical options
* Easy-to-understand, step-by-step treatment plans for each type of problem
* The pros and cons of common medications
* Innovative treatments such as hyperthermia and cryosurgery
* Checklists and brief quizzes to accurately assess your health status
* A detailed prevention program to maintain your good health
* Important questions to ask your doctor now
See More
The Prostate--An Overview of The "Unknown" Gland.

What Can Go Wrong-- and Why.

How Prostate Problems Are Diagnosed.

Medicines for the Prostate.

Surgeries for the Prostate.

Other Standard Treatments for Prostate Problems.

Alternative Approaches to Treating the Prostate.

If the Diagnosis is Cancer.

Dealing with the Serious Side Effects of Prostate Problems.

Honest Talk from Men Who Have Been Through It.

The Healthy Prostate Program, Part I: Prevention.

The Healthy Prostate Program, Part II: Treatment.

The Latest Word on Treating the Prostate.

The Future Looks Great.

Appendix.

Notes.

Glossary.

For Further Reading.

Index.
See More
Arnold Fox, M.D., practices internal medicine, cardiology, and antiaging medicine in Beverly Hills, California. He also hosts The Doctor Fox Show, a radio program heard throughout southern California.

Barry Fox, Ph.D., is a professional editor and writer. The father-and-son team are coauthors of the bestselling Beverly Hills Medical Diet as well as many other books on health and nutrition.
See More