Industrial Marketing Strategy, 3rd Edition
ISBN: 978-0-471-11989-0
384 pages
May 1995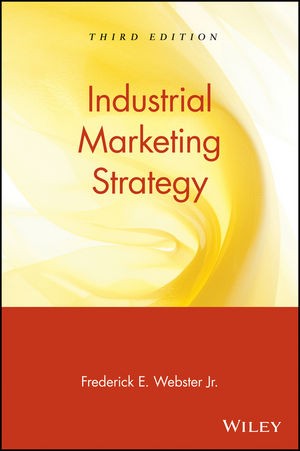 Develop customer-focused, market-driven strategies for today's competitive marketplace. . .

Industrial Marketing Strategy

Widely regarded as a classic text in the field, Industrial Marketing Strategy, Third Edition shows you, as a practicing manager, how to develop the marketing strategies your business needs to succeed in a rapidly evolving global marketplace. This important book covers:
* The basic concepts of customer analysis, buying behavior, buyer-seller relationships, market segmentation and targeting, and positioning
* Proven, concrete, strategic management techniques--rather than a rote enumeration of the functions and institutions of industrial marketing
* Guidelines for implementing the value proposition through distribution and marketing communications
* The role of marketing in the broader context of business and corporate-level strategic planning
* Special sections on product development, national account management, customer service, information technology, and price signaling
See More
The Nature and Scope of Industrial Marketing.

Industrial Procurement and Buying Behavior.

Buyer-Seller Relationships.

Industrial Market Segmentation, Targeting, and Positioning.

Product Strategy and New Product Development.

Developing Markets for New Industrial Products.

Pricing Strategy.

Industrial Distribution Strategy.

Managing the Industrial Sales Force.

Industrial Marketing Communications.

Industrial Marketing Planning.

Index.
See More
FREDERICK E. WEBSTER, Jr., is Charles Henry Jones Third Century Professor of Management at the Amos Tuck School of Business Administration at Dartmouth College. An active consultant for many leading firms throughout the United States and abroad, he is also the author of Market-Driven Management: Using the New Marketing Concept to Create a Customer-Oriented Company (Wiley), among other publications. He is also a trustee of the Marketing Science Institute and a past director of the American Marketing Association.
See More