Strategic Management of Teams
ISBN: 978-0-471-12058-2
292 pages
March 1996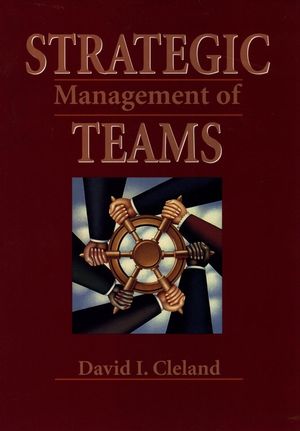 STRATEGIC Management of TEAMS

"Those companies that learn the secrets of creating cross-functional teams are winning the battle for global market share and profits. Those that don't are losing out."--BusinessWeek

It's no secret that alternative teams are increasingly recognized as a highly effective means to improve quality and operational efficiency, decentralize authority, and motivate workers at every level of an organization. Less well understood, and rarely touched upon in the literature, is the fact that cross-functional teams are highly versatile strategic resources and key elements in the design and execution of strategic management initiatives.

In this book, noted author, scholar, and authority on team management, David Cleland, demonstrates that alternative, cross-functional teams are both critical to the management of change within an organization and building blocks in the design and execution of product/service and process strategy. He explores specific aspects of strategic team management and provides clear, concise recommendations on the design and implementation of team-based strategy.

Topics of particular interest include:
* Identification and discussion of alternative uses for teams in dealing with product/service and process changes within the organizations
* Using teams to encourage cross-functional and cross-organizational focus in the use of enterprise resources
* How teams can enable everyone in the enterprise to participate in the design, development, and implementation of strategies that will make the organization more competitive
* How the strategic use of teams changes organizational culture
* Coping with the negative aspects of teams
* How the use of teams has created "Teamocracy"--an organizational design driven by operational and strategic teams


Strategic Management of Teams is must reading for managers in industry, government service, or any large organization that must adapt continually to technological, economic, and social change. It is also an indispensable resource for students in industrial engineering, technology management, and business administration who wish to enter the job market armed with the very latest in management skills.

This eye-opening book reveals the enormous potential of alternative, cross-functional teams as forces for change within an organization and as building blocks in the design and execution of competitive strategy. It gives managers the tools, techniques, and information they need to integrate teams into the overall strategic plan of the organization.

Author David Cleland looks at teams from the point of view of a manager who envisions using teams as strategic devices in dealing with change. He explains how to determine whether and which teams should be put in place and how to make the most of them. He explains:
* How to prepare the enterprise for the creation of teams and prepare team players for their new roles in facilitating change within the organization
* How teams can sharpen the enterprise's competitive edge--and how managerial roles must change to allow this to happen
* Specific team functions: reengineering through teams; self-managed production teams; benchmarking; concurrent engineering teams; sundry teams; and more
* The positive and negative impact of teams on corporate culture
* Results that teams have achieved for organizations that have implemented them
See More
SETTING THE STAGE.

The Concept and Process of Strategic Management.

DEVELOPING THE PLAYERS.

Getting the Organization Ready.

Getting the Teams Ready.

Team Development.

Team Culture.

USING TEAMS.

Teams and the Competitive Edge.

Reengineering through Teams.

Self-Managed Production Teams.

Benchmarking: Using Teams to Compare.

Concurrent Engineering Teams.

Sundry Teams.

The New Managers.

NEW DIMENSIONS.

The Negative Side of Teams.

Team Results.

Index.
See More
DAVID I. CLELAND is the author or editor of twenty-five books on general management, project management, and team management. Dr. Cleland is a nationally and internationally recognized consultant in the fields of project management and team management and has been honored for his continuing contributions to engineering management. In 1987 he was elected a Fellow of the Project Management Institute (PMI).

An active researcher, Dr. Cleland has received funding for eighteen major research projects during his academic career. In 1990 he was appointed to the Ernest E. Roth Professor-ship in the School of Engineering at the University of Pittsburgh in recognition of his outstanding productivity as a senior member of the faculty.
See More