Visual Basic .NET and XML: Harness the Power of XML in VB.NET Applications
ISBN: 978-0-471-12060-5
528 pages
March 2002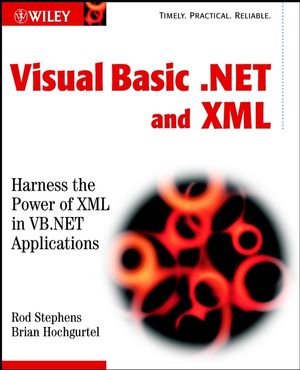 An accessible and step-by-step approach to using VB.NET and XML enterprise application development
XML is a tool for interacting with, describing, and transporting data between machines across networks and across the Internet-perfectly suited for Microsoft's .NET plan to fully integrate the Internet into distributed computing. By using real-world and fully-functional examples, this book quickly brings Visual Basic programmers and developers up to speed on XML for enterprise application development. The authors include an overview of XML and how it works with VB.NET, then explain how to use it to manipulate data in distributed environments.
Companion Web site at www.vb-helper.com features the complete working code for all the examples built in the book.
Microsoft Technologies
.NET Platform: The next big overhaul to Microsoft's technologies that will bring enterprise distributed computing to the next level by fully integrating the Internet into the development platform. This will allow interaction between any machine, on any platform, and on any device.
Visual Basic.NET: The update to this popular visual programming language will offer greater Web functionality, more sophisticated object-oriented language features, links to Microsoft's new common runtime, and a new interface.
ASP.NET: A programming framework (formerly known as Active Server Pages) for building powerful Web-based enterprise applications; can be programmed using VB.NET or C#.
C#: Microsoft's new truly object-oriented programming language that builds on the strengths of C++ and the ease of Visual Basic; promises to give Sun's Java a run for its money.
See More
Introduction xvii
PART ONE XML in Visual Basic .NET 1
Chapter 1 XML Overview 3
Elements and Attributes 7
Comments 10
Using Namespaces 10
Using the XML Editor in Visual Studio .NET 13
Validation 15
Conclusion 25
Chapter 2 DOM 27
DOM Objects 27
Wrapping Object Creation 48
Navigating the DOM 59
Finding Nodes 68
Moving Nodes within Trees 76
Moving Nodes between Trees 78
Other Examples 81
Conclusion 82
Chapter 3 Forward-Only XML 83
Writing XML Documents by Hand 84
XmlTextWriter 87
XmlConvert 110
XmlTextReader 112
XmlNodeReader 142
SAX 146
Conclusion 163
Chapter 4 Serialization 165
Serialization Basics 166
Arrays 170
Attributes 174
Subitems 177
Binary Serialization 179
Binary Data 183
SOAP Serialization 185
SOAP Serialization of Binary Data 186
Networks 188
Improved Control 194
Interprogram Communication 197
Conclusion 204
Chapter 5 Schemas 205
The Purpose of Schemas 205
DTD and XDR 206
XSD 208
Editing Schemas in Visual Basic 233
Validating XML 241
Validating the DOM 244
Building Schemas Programmatically 246
DataSet Schemas 255
Conclusion 259
PART TWO XML on the Web 261
Chapter 6 XSL 263
The Pieces of XSL 264
Using XPath within XSL 265
XSLElements 277
XSL Flow of Control 293
XSLExamples 302
A Visual Basic Transformation Engine 321
Conclusion 325
Chapter 7 ASP.NET 327
IIS 327
ASP.NET Basics 328
Data Islands 334
Client-Side Data Islands 334
Server-Side Data Islands 340
Web Forms 354
Conclusion 357
Chapter 8 Web Services 359
Implementing Web Services 360
Creating Clients 376
Visual Basic .NET Clients 387
Not .NET Web Services 390
Discovery 392
Conclusion 395
PART THREE XML in Other Applications 397
Chapter 9 Microsoft Office 2000 399
Word 401
Excel 422
Access 431
Outlook 440
Conclusion 442
Chapter 10 Internet Explorer 443
Built-in Capabilities 444
Internet Explorer's XML Utility Plug-in 445
Conclusion 451
Chapter 11 SQL Server 2000 453
Configuring XML Support in IIS 454
Executing Queries 462
Using an HTML Form to Call Data 471
Using Schemas to Retrieve Data 475
Conclusion 484
Index 485
See More
ROD STEPHENS is a contract software engineer and president of Rocky Mountain Consulting, specializing in graphical user interfaces, algorithms, and database systems. He has published numerous articles and nine books (all with Wiley). He hosts www.vb-helper.com.
BRIAN HOCHGURTEL is a software development engineer for Rogue Wave Software. His current project involves implementing the servlet standard in C++. Previous projects include creating Web interfaces for enterprise databases, proto-typing XML-based products, and creating Web-based applications for cancer research studies, environmental education, and software documentation.
See More