A Manufacturing CEO's Secret Tips for Improving Profit
ISBN: 978-0-471-12555-6
Hardcover
237 pages
February 1996
US $34.95

Add to Cart
This price is valid for United States. Change location to view local pricing and availability.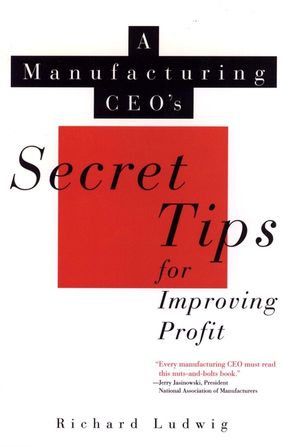 A no-nonsense guide for managers who ask themselves each day:"What should I work on first to improve my company's profits?"

A Manufacturing CEO's Secret Tips for Improving Profit assumes the mental perspective of the manager who sees the whole complex picture and who must make tough decisions quickly and effectively. Based on the author's personal experience as a successful aircraft manufacturing president, this book is designed in every detail to help you bring positive change to every part of your company, improve its overall operation, and to increase profitability. It offers proven tools, techniques, and methods that you can put to work immediately, including:
* How to use General Business Formulas
* How to estimate the cost of a new product
* How to use the General Business Formula to design an effective financial reporting system
* How to identify problems early--before they reduce profits
* How to reduce inventory
* How to create and use learning curves to help manage a business
* How to involve employees in cost control
* And much more!


Timely, practical, and authoritative, A Manufacturing CEO's Secret Tips for Improving Profit is an invaluable source of on-target advice you'll refer to again and again.

Be forewarned: This is not an abstract or theoretical book about how to run a business. It doesn't separate different aspects of a company and then discuss each as an isolated system. Instead, Richard Ludwig's A Manufacturing CEO's Secret Tips for Improving Profit is a hands-on, nuts-and-bolts guide to making immediate improvements that will lead to greater profits. It looks at the operation of a manufacturing firm from the mental perspective of the manager who, day-to-day, sees the complexity of the situation and who must sort out what must change, which ideas work, and how to combine and coordinate his or her areas of responsibility.

Written by a successful businessman for successful businesspeople, it offers a complete management system that will provide improved profits from all areas of operations, from administrative or indirect labor functions to production. You'll learn:
* Unique formulas for choosing capital equipment, downsizing, buying outside services
* How to identify and weed out weak or poorly performing sectors
* How to use an American version of quality circles and incentives for improving employee productivity
* How to combine trend analysis with Pareto analysis to reduce costs and improve the bottom line


Chapters are arranged to work the way you work: they provide an organized, immediate way to identify problem areas, generate information about them, and implement systems to improve results and increase profits. These pages are packed with practical ideas and real-life examples, presented in a logical, comprehensive, and well-integrated manner. For manufacturers, managers, and entrepreneurs, A Manufacturing CEO's Secret Tips for Improving Profit is a virtual treasure trove of proven techniques for obtaining greater profitability.