Textbook
Power Electronic Circuits
ISBN: 978-0-471-12662-1
592 pages
April 2003, ©2004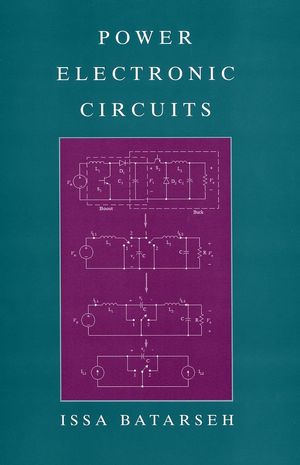 Intended to introduce the basics of power electronics, this textbook provides the necessary knowledge to analyze and design power electronic circuits used in various industrial applications. It presents detailed explanations of circuit operations, clear discussions of the theory behind power electronic circuits, and an effective problem-solving approach. Unlike many existing texts, it supplies large numbers of examples, exercises, and problems with thorough discussion on resonant and soft-switching dc-to-dc converters.
Intended Courses:
Department: Electrical Engineering
Course Name: Power Electronics; Power Circuits
Course Level: Senior - Graduate
See More
Chapter 1. Introduction.
Chapter 2. Review of Switching Concepts and Power Semiconductor Devices.
Chapter 3. Switching Circuits, Power Computations, and Component Concepts.
Chapter 4. Nonisolated Switch-Mode dc-dc Converters.
Chapter 5. Isolated Switch-Mode dc-to-dc Converters.
Chapter 6. Soft-Switching dc-dc Converters.
Chapter 7. Uncontrolled Diode Rectifier Circuits.
Chapter 8. Phase-Controlled Converters.
Chapter 9. dc-ac Inverters.
Appendix A: Introduction to Magnetic Circuits.
Appendix B: Fourier Series for Common Waveforms.
Appendix C: Useful Functions.
See More
The clear discussion and problem-solving approach allow for easy lecturing from the text.
Detailed circuit modeling analysis makes it easy to explain complex concepts.
A large number of examples, exercises, and problems, including many that are design-related, create greater opportunity for students to learn the content.
To help meet recent Accreditation Board for Engineering and Technology (ABET) requirements for design in the engineering curriculum, special emphasis provides students with opportunities to apply design techniques. Such problems are denoted with the letter "D" next to the problem number.
See More