The 20% Solution: Using Rapid Redesign to Create Tomorrow's Organizations Today
ISBN: 978-0-471-13278-3
230 pages
November 1995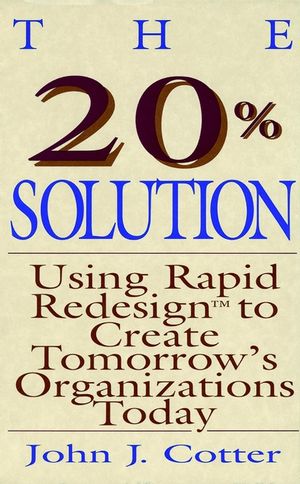 "Today, change flashes across the landscape like lightning. Simple, single-focus fix-it schemes no longer work, and isolated, unintegrated, one-time improvement efforts fail miserably. Organizations require periodic revolution, not just constant evolution." —John J. Cotter
The first law of the jungle is that the most adaptable species are always the most successful. In the struggle for survival, the winners are those who are most sensitive to important changes in their environment and quickest to reshape their behavior to meet each new environmental challenge. As author John Cotter makes abundantly clear in this groundbreaking book, the law of natural selection holds as true for business organizations as it does for animal species.
For Cotter, the key to getting a jump on change and beating out the competition in today's tumultuous, hypercompetitive business jungle is Rapid Redesign. A dynamic new approach to formulating and implementing strategic change, Rapid Redesign is based on the ongoing, systematic assessment of "the 20% of what you do that will contribute most to your success in the future," and then doing less to accomplish more by concentrating your time and energies on that 20%. Cotter demonstrates how Ford, Hewlett-Packard, Canon, and many other outstanding companies have successfully used this technique to become leaders in their respective industries. More important, he provides managers with a comprehensive blueprint for making Rapid Redesign work in companies of any size to increase their efficiency and effectiveness today and in the future.
Cotter begins by spelling out the changes in perspective required of every member of a company attempting to make the transition to a flexible, change-centered organization. This is followed by a series of interrelated chapters in which he provides step-by-step guidelines on how to go about designing, planning, building, and managing such an organization. You'll learn how to identify and prioritize key strengths and weaknesses in your organization's structure, work routines, and personnel in the context of tomorrow's opportunities. You'll discover hundreds of innovative new approaches to improving productivity—such as horizontal business teams and internal and external alliances—and you'll learn how to tailor them to the unique demands of your own organization and industry. You'll also learn how to reshape your organization in the three key areas of structure, support, and staffing, and how to build mechanisms for continuous reflection and renewal into the new organizational structure.
Read The 20% Solution and find out how to help your organization make the leap from merely surviving change to thriving on it.
Don't wait for change to happen . . . make it happen!
A dynamic approach to building flexible, change-driven business organizations for greater profit and productivity
Rapid, unrelenting, all-encompassing change and uncertainty are the only constants in business today, and the most successful organizations aren't the ones that have learned how to survive change, but the ones that actually thrive on it. Now, find out how to transform your company into a sleek, hard-driving glutton for change in The 20% Solution.
Written by one of the world's leading authorities on redesigning organizations for changing times, this groundbreaking book shows you how to design, plan, build, and manage a super-flexible, change-centered organization. John Cotter presents hundreds of real-life success stories that show how leading companies have applied The 20% Solution, and provides detailed, step-by-step instructions on how to make it work for you. He tells you everything you need to know to redesign your organization for success in the future.
The 20% Solution shows you how to:
Identify your company's core competencies and capabilities
Zero in on the small number of key issues that are critical to your company's future growth and profitability
Reshape your organization around the three key areas of structure, support, and staffing
Create innovative new approaches to improving performance and custom-tailor them to your company alone
Guarantee continuous rethinking and renewal of the way your organization does business
See More
New Ways of Thinking About Tomorrow.

New Perspectives Shape New Futures.

Setting the Stage for a Rapid Redesign.

Rapid Redesign: Clarifying Purpose, Philosophy, and Mission.

Rapid Redesign: Finding Strengths and Weaknesses in Core Business Processes.

Rapid Redesign: Mapping and Analyzing Social Processes.

Rapid Redesign: Radically Redesigning the Organization.

Rapid Redesign: Implementation and Continuous Renewal.

Redistributing Responsibilities in the Redesigned Organization.

Managing Organizations in an Age of Paradox.

Index.
See More
JOHN J. COTTER is the founder of John J. Cotter and Associates, Inc., an international training and consulting firm headquartered in Studio City, California. Among the many companies Cotter has advised about designing organizations for changing times are Alcoa, Alfa Mexico, AT&T, Colgate-Palmolive, Esso Europe, Ford, Inland Steel, National Semiconductor, Nippon Steel, Novacor, Polaroid, Santa Fe Railroad, Shell, Wyerhaeuser, and Whirlpool. Before starting his own company in 1978, Cotter was a founding member of The Center for Quality of Working Life at UCLA's Institute of Industrial Relations. There, he advised representatives from industry, labor, and government, both in the United States and abroad, about the design of high-performance organizations, a subject on which he is an internationally respected authority. Mr. Cotter is the publisher of the well-known bimonthly newsletter, The Work Design Network News, and he is frequently quoted in The Wall Street Journal, Industry Week, The Futurist, and other leading news-papers and magazines.
See More