One Stop Marketing
ISBN: 978-0-471-13331-5
256 pages
September 1996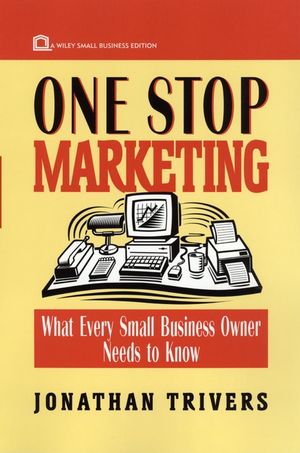 How to find--and keep--your essential core customers With the increasing number of factory outlets, price clubs, an megastores in today's marketplace, how can small business owners effectively compete for customers? In this practical, straightforward new book, Jonathan Trivers, a marketing professional who has counseled over 1,400 entrepreneurs and small businesses, offers a complete guide to creating and implementing a marketing plan designed to help Main Street retailers--like you--successfully compete against the "big guns." Based on 12 marketing principles, One Stop Marketing shows you how to identify and keep essential core customers by recognizing their needs and responding to changes in their buying habits. With practical tips, invaluable advice, and real-world examples from actual businesses, here's where you'll find:
* Keys to narrowing your product assortment
* Steps for increasing the value of your products and services
* Tips on keeping your customer happy long after the sale
* Methods for promoting to your core customer
* Special "Getting Down to Business" sections that help you determine how to apply each marketing principle to your store
See More
MARKETING.

The Quiet Revolution: The Changing Customer.

The Loud Revolution: The Changing Retailer.

The Smart Marketing Definition.

What Marketing Is Not.

Your Marketing Know-How.

MARKETING PRINCIPLES.

The 12 Retail Marketing Principles That Work.

A Marketing Success Story.

FINDING CUSTOMERS.

Finding Customers: The Three Steps.

Markets: Understanding Your Different Customers.

Segmenting Markets: Finding Your Core Customers.

Building Markets and Creating Benefits.

KEEPING CUSTOMERS.

Keeping Customers: Three Best Ways.

Avoid at All Costs: Delusions of Adequacy.

Don't be Overserviced.

Act Direct, Be Direct.

Index.
See More
JONATHAN TRIVERS was president of Abbey Carpet Company, the largest floor-covering franchiser in the United States. He is currently adjunct professor at the School of Business at Southern Oregon State College. Mr. Trivers lives in Medford, Oregon.
See More