Islands in the Sky: Bold New Ideas for Colonizing Space
ISBN: 978-0-471-13561-6
266 pages
February 1996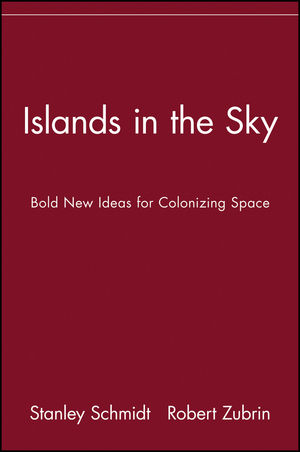 "Let the meek inherit the earth—the rest of us are going to the stars! Here's how it's going to be done." — Robert Zubrin
"These articles are not 'just science fiction.' They are things we can do—and with any luck at all, and vision and determination, we will." — Stanley Schmidt
Take off on a thrilling journey of space exploration and speculation—to the realm where science fiction becomes science fact—as leading writers, researchers, and astronautic engineers describe a not-too-distant future of interstellar travel and colonization. From cable cars that ride "skyhooks" into space to rockets that can refuel out of Martian air, from "terraforming" planets (a process that makes them habitable for human life) to faster-than-light propulsion systems, Islands in the Sky offers an astonishing collection of challenging—and plausible—ideas and proposals from the pages of Analog magazine. Brilliant and provocative, here is fun-filled reading for everyone interested in science, technology, and the future.
See More
Partial table of contents:
BREAKING THE BONDS OF THE EARTH.
Comes the Revolution....(G.
Stine).
The Hypersonic Skyhook (R. Zubrin).
STEPPING INTO THE SOLAR SYSTEM.
Mars Direct: A Propasal for the Rapid Exploration and Colonization of the Red Planet (R. Zubrin & D. Baker).
Inward Ho!
(S. Gillet).
Alien Life Between Here and the Stars (R. Forward).
CREATING NEW WORLDS.
Terraforming Mars (R. Zubrin & C. McKay).
A Planet Dweller's Dreams (M. Fogg).
ADVANCED DRIVES AND INTERSTELLAR TRAVEL.
To the Stars!
(G. Woodcock).
The Magnetic Sail (R. Zubrin).
The Tachyon Drive: Infinite Exhaust Velocity at Zero Energy Cost (J. Cramer).
The Negative Matter Space Drive (R. Forward).
References.
See More
STANLEY SCHMIDT, Ph.D., is the Editor of Analog Science Fiction/Science Fact magazine, for which he has received 16 Hugo Award nominations. He is the author of four novels, including Lifeboat Earth and Newton and the Quasi-Apple, and is a member of the Board of Advisors of the National Space Society.
ROBERT ZUBRIN, Ph.D., is an astronautics engineer whose work has been profiled in Newsweek and Air & Space/Smithsonian magazines. He is a member of the Board of Directors of the National Space Society and a Fellow of the British Interplanetary Society.
See More