The Art of Landscape Detail: Fundamentals, Practices, and Case Studies
ISBN: 978-0-471-14044-3
368 pages
September 1999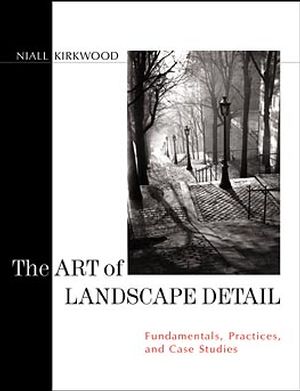 Introducing a revolutionary new approach to detail design in landscape architecture

In this groundbreaking book, Niall Kirkwood of the Harvard Graduate School of Design takes a fresh,holistic approach to the theories, approaches, and practices of landscape detail. With the support of a wealth of graphic and written material taken from historic and contemporary landscape designwork, he clearly demonstrates the role that landscape detail plays in the design process. Going beyond theoretical considerations, Professor Kirkwood outlines landscape detail as a primary design activity, both pragmatic and poetic, using a range of built landscape design examples.

A valuable resource for professionals and students in landscape architecture, architecture, urban design, and environmental design, The Art of Landscape Detail:
* Provides a practical introduction to the aesthetic concerns, form, language, and expression of landscape detail
* Explores a wide range of detail issues-including materials, climate, durability, implementation, and failure-and their influence on the overall detail design process
* Examines detail design processes and research approaches that designers can apply in the analysis and development of their own work
* Contains in-depth case studies of eight award-winning landscape architecture design projects, including provocative discussions with the designers on the establishment and evolution of their detail design philosophy
* Features more than 150 images illustrating forms and site detail from national and international built landscapes
See More
FUNDAMENTALS.

Landscape and Detail.

Detail Concerns.

Approaches and Themes.

PRACTICES.

Constructing Detail.

Detail Durability.

Research.

CASE STUDIES.

Aspects of Landscape Detail Design.

Postscript: Poetics and Pragmatics.

Appendix.

Bibliography.

Index.
See More
NIALL KIRKWOOD, ASLA, is an associate professor of landscape architecture at the Harvard Graduate School of Design, and formerly a senior associate with Hanna/Olin Ltd., Landscape Architects, Philadelphia.
See More