Entrepreneur Magazine: Successful Advertising for Small Businesses
ISBN: 978-0-471-14083-2
224 pages
August 1996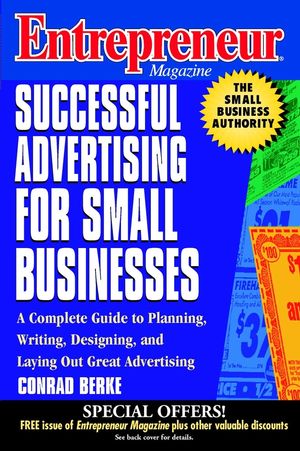 How to plan, write, design, and profit from your own advertising!

There is nothing mysterious about creating high-quality, effective advertising-but there is a lot to learn. In this remarkable handbook, you'll discover how to plan and carry out an ad campaign that boosts sales, increases profits, and helps your business grow. Small-business advertising veteran Conrad Berke provides countless examples as he shows you step by step how to conceive, budget, create, and place ads that will have customers flocking to your place of business ready to spend money. You'll learn how to:
* Plan for a 25% sales jump and a 33% leap in profits
* Write powerful headlines and effective advertising copy that move people to action
* Identify and target consumers who are most likely to buy your goods or services
* Become a smart media buyer
* Turn a $1,000 outlay into $15,000 worth of advertising


ENTREPRENEUR Magazine is the banner publication of the Entrepreneur Magazine Group. It has the largest newsstand circulation of any business monthly with a total ABC audited circulation of 410,000. CONRAD BERKE, former head of advertising and associate publisher of Jewish Week, currently sells advertising space for New York's Daily News and teaches advertising at Fairleigh Dickinson University. He has 40 years' experience writing, designing, and selling small-business advertising.

Also available from the Entrepreneur Magazine library:
* The Entrepreneur Magazine Small Business Advisor
* The Entrepreneur Magazine Guide to Integrated Marketing
* Making Money with Your Personal Computer
* The Entrepreneur Magazine Small Business Answer Book
* Small Business Legal Guide
* Starting a Home-Based Business
* Starting an Import/Export Business
See More
How to Plan, Write, and Design Retail and Small-Business Advertising.

Why Advertise?

Who Needs It?

How to Plan for an Increase in Sales and Profit.

Examples of Advertising Budget Planning.

How to Get Ads to Produce Good Results.

How Do You Begin to Write Effective Advertising?

How to Write Effective Advertising Copy.

If it Doesn't Sell, It Isn't Creative.

How Big Should Your Ads Be?

Down-to-Earth, Practical Tips on How to Design Your Ads.

Typography.

Production.

Advertising Media Strategy.

What About Using All the Other Media?

Important Review of the Basics.

Epilogue.

Index.
See More