The Living City: How America's Cities Are Being Revitalized by Thinking Small in a Big Way
ISBN: 978-0-471-14425-0
448 pages
September 1994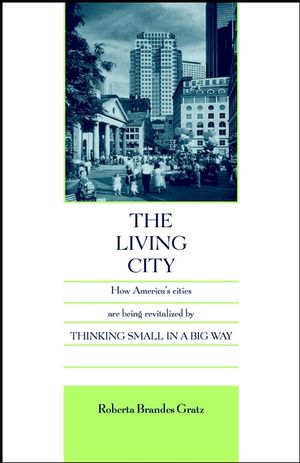 THE LIVING CITY

"An intelligent analysis. Sensible, undoctrinaire, even good-humored. An appealing mixture of passion and clinical dispassion."
-Washington Post Book World

"The best antidote I've read to the doom-and-gloom prophecies concerning the future of urban America."
-Bill Moyers

"This is fresh and fascinating material; it is essential for understanding not only how to avoid repeating terrible mistakes of the past, but also how to recover from them."
-Jane Jacobs, author of The Death and Life of Great American Cities

From coast to coast across America there are countless urban success stories about rejuvenated neighborhoods and resurgent business districts. Roberta Brandes Gratz defines the phenomenon as "urban husbandry"-the care, management, and preservation of the built environment nurtured by genuine participatory planning efforts of government, urban planners, and average citizens.
See More
THINKING SMALL IN A BIG WAY.

Process Is People.

Savannah's Victorian District.

Gentrification and Displacement.

Winning Skirmishes, Losing Wars.

Understanding the Lessons.

Urban Husbandry: The Economy of Wisdom.

Planned Shrinkage: The Economy of Waste.

Urban Dispersal.

THE CITY REDISCOVERED.

Big Steps, Modestly: The Stories of Ithaca and Corning.

Outside, Inside: Burlington and Pittsfield.

Avoiding Wrong Lessons: The Remnant Complex vs.

Small Improvement, Big Differences.

Culprits.

Streets Have Value.

Old Areas Flourish Anew.

THE TROJAN HORSE: BIG PLANS, BIG MISTAKES.

The Past Over and Over Again.

The Question Is Why: Concrete Bunker or Else.

Epilogue.

Notes.

Index.
See More
Roberta Brandes Gratz lives in New York City, where she has been involved in urban matters as a community activist, as executive director of a historic restoration project, and as a reporter for the New York Post. In addition, she lectures and writes on urban affairs.
See More