The New York Public Library Incredible Earth: A Book of Answers for Kids
ISBN: 978-0-471-14497-7
192 pages
September 1996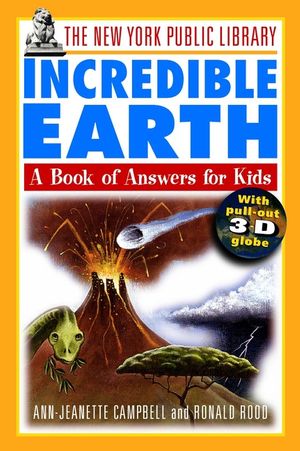 The New York Public Library Incredible Earth Discover ancient fossils and vast oceans. Explore devastating earthquakes and explosive volcanoes. Find the answers to your questions about our incredible Earth . How was Earth formed? See page 3. When did life begin? See page 30. If you dug a hole to the center of Earth, what would you find? See page 46. What is a volcanic bomb? See page 78. What is the largest active volcano in the world? See page 85. What does an earthquake sound like? See page 103. How much of Earth's surface is covered by water? See page 109. Why is the ocean blue? See page 109. What is the longest river in the world? See page 127. How does thunder roll? See page 161. A Stonesong Press Book
See More
The Beginning of the Universe.

The Beginning of Life.

Earth Inside and Out.

Volcanoes.

Earthquakes.

Oceans.

Freshwater.

Weather.

Extreme Weather.

Glossary.

Bibliography.

Index.
See More
THE NEW YORK PUBLIC LIBRARY's bestselling reference books include The New York Public Library Desk Reference, The New York Public Library Book of Answers, and The New York Public Library Student's Desk Reference.

ANN-JEANETTE CAMPBELL writes and edits children's books out of her home in Brooklyn, New York.

RONALD ROOD is the author of many award-winning books for children. He has spoken at hundreds of schools throughout the United States and resides in Lincoln, Vermont.
See More