The Fast Forward MBA in Business
ISBN: 978-0-471-14660-5
288 pages
April 1996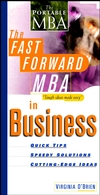 The ultimate crash course in business

From marketing to economics to international business to puzzling intangibles like corporate culture and leadership styles, this compact book launches The Fast Forward MBA series with a rapid fire overview of the basics of business.

* What's the difference between a manager and a leader?
* What is the lowdown on all of the restructuring and reengineering hype?
* How do the numbers from accounting play into overall strategy?
* What are the big and small of economics.

These are just a few of the timely topics explored here. And in the soon to be signature style of the series, it presents this information in a mix of cases, examples, and quick and concise chapters that make it easy to find answers fast.

VIRGINIA O'BRIEN (Marblehead, Massachusetts) is a freelance writer and editor. PAUL A. ARGENTI (Hanover, New Hampshire) is a professor at the Amos Tuck School of Business at Dartmouth University. A regular consultant to Fortune 500 companies, he is the co-author of The Portable MBA Desk Reference.
See More
THE NEW, SOFTER SIDE OF BUSINESS.

Leadership and Management.

Culture: Intangible, Untouchable, But Oh So Important.

People: The Management of Human Resources.

New Relationships: Teamwork and the Customer Connection.

THE HARD NUMBERS.

Accounting and Finance: Showing How the Numbers Count.

Financial Function: Hard Values.

The Macro and Micro of Economics.

FUNCTIONS AND STRATEGIES: MAKING BUSINESS WORK.

Information Technology: The New Engine of Business.

M&M: Manufacturing and Marketing.

Strategic Thinking: It's All About Moves.

Conclusion.

Notes.

Index.
See More