International User Interfaces
ISBN: 978-0-471-14965-1
288 pages
June 1996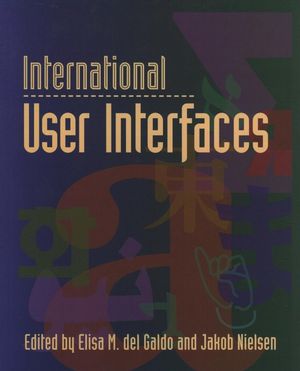 Leading authorities from around the world discuss the latest topics in international user-interface design.

With most major companies in the computer industry depending on exports for 50 percent or more of their sales, user-interface design teams face a major challenge in making their products both useful and accessible to the global marketplace. It is no longer enough to simply offer a product translated in ten to twenty different languages. Users also want a product that acknowledges their unique cultural characteristics and business practices.

In International User Interfaces, Elisa del Galdo and Jakob Nielsen head a team of acknowledged international authorities who confront some of the problems currently facing international user-interface developers, including:
* International Usability Engineering.
* Developing a Cultural Model.
* Arabization of Graphical User Interfaces.
* Managing a Multiple-Language Document System.
* An Intelligent Lexical Management System for Multilingual Machine Translation.
* A Chinese Text Display Supported by an Algorithm for Chinese Segmentation.
* Breaking the Language Barrier with Graphics.
* Cultural Issues That Can Affect Training
See More
International Usability Engineering (J. Nielsen).

Problems in Designing the User Interface for Systems Supporting International Human-Human Communication (J. Connolly).

Developing a Cultural Model (N. Hoft).

Culture and Design (E. del Galdo).

Cultural Learning Differences in Software User Training (E. Krock).

Impact of Culture on User Interface Design (M. Ito and K. Nakakoji).

Arabization of Graphical User Interfaces (F. Amara and F. Portaneri).

A Chinese Text Display Supported by an Algorithm for Chinese Segmentation (L. Chen and W. Jin).

Case Study: Managing a Multiple Language Document System (S. Copeland).

The Design of Multilingual Documents (E. del Galdo).

An Intelligent Lexical Management System for Multilingual Machine Translation (Y. Goa).

A Day in the Life: Studying Context Across Cultures (S. Dray and D. Mrazek).

Icon and Symbol Design Issues for Graphical User Interfaces (A. Marcus).

Index.
See More
Elisa M. del Galdo is currently an independent human factors consultant. She was previously a member of Digital Equipment Corporation's European Design Group where she was responsible for the design and evaluation of user interfaces for ten European countries. Jakob Nielsen is a distinguished engineer at Sun Microsystems, where he is working in the area of object-oriented user interfaces. He led the user-interface team that created Sun's WWW pages for both internal and external access. He is the author of numerous books in the field and coeditor of the definitive work, Usability Inspection Methods.
See More