Prince John Magruder: His Life and Campaigns
ISBN: 978-0-471-15941-4
400 pages
October 1996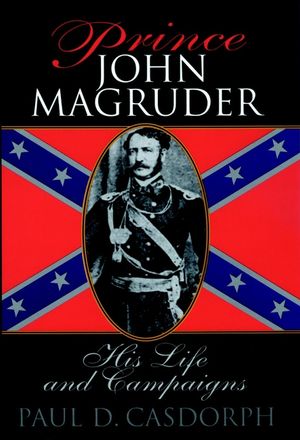 He was one of the most intriguing characters of the Civil War era. As famous for his courage as for his ornate uniforms and flamboyant style, he won intrepid victories on the peninsula of Virginia and successfully defended Texas during the long war's waning days. Now, in the first full-length biography of Major General John Bankhead Magruder, acclaimed historian Paul D. Casdorph has created a brilliant portrait of the Confederate general dubbed "Prince John."

Born in Virginia in 1807, Magruder attended the University of Virginia, where he dined with Thomas Jefferson and his classmates included a young writer named Edgar Allan Poe. These were the first in a long line of famous acquaintances. While at West Point, Magruder met the future Confederate leaders with whom he would ultimately join forces: Jefferson Davis, Robert E. Lee, and Joseph E. Johnston.

Graduating from West Point in 1830, Magruder embarked upon three action-packed decades of service in the U.S. Army, taking him from Florida during the Seminole wars to the frontiers of Maine, New York, and Texas. In 1847, his pivotal leadership of General Winfield Scott's forces was instrumental in defeating Santa Anna at the gates of Mexico City. It was in that conflict that Magruder introduced a young lieutenant named Thomas Jackson to the strategic value of deploying rapidly maneuverable artillery. Fourteen years later, at Bull Run, Jackson would earn a colorful nickname of his own: Stonewall.

By the spring of 1861, Prince John Magruder had risen to the estimable position of commander of the Washington garrison. Although he knew Abraham Lincoln and several cabinet members personally, when secession and war became imminent, Magruder resigned his duties as the president's bodyguard to race home to Virginia to answer the Confederate call to arms.

In the opening engagements of the Civil War, Prince John's initiative and audacity earned him both admiration and acclaim. His often outrageous behavior, spurred by heavy drinking, also brought notoriety. Magruder's larger-than-life style was in sharp contrast to the rigid standards demanded by the Confederate leadership, and Prince John was transferred to the district of Texas, New Mexico, and Arizona. Once out from under the eyes of his stern taskmasters in Virginia, the eccentric--yet unquestionably courageous--officer rallied his command. His heroic defense of the Texas coast culminated in a great victory at the Battle of Galveston on New Year's Day, 1863.

When the war ended, he headed for Mexico, and yet another great adventure. Serving in the government of Emperor Maximilian, Magruder, once more, added his own unique flourish to a historic upheaval. With enemy forces closing in, he attempted to arrange an escape plot for the doomed ruler. When the plan failed, Magruder fled to Cuba. Prince John eventually returned to the United States, where he died in 1871.

As befits its bold and brassy subject, Prince John Magruder is a riveting--and overdue--portrait of one of the nineteenth century's most charismatic military figures. It reveals new insights into the inner workings of the Confederacy, and sheds new light on lesser-known engagements in Texas and the American West. Daring military adventure and dazzling biography come together in this compelling chronicle of a dynamic individual who managed to create a few ripples of his own within the swirling tides of history.

Critical acclaim for Paul D. Casdorph

"Terrifically compelling." -- Atlanta Journal & Constitution on Lee and Jackson

"Engrossing . . . a superb narrative of the pair's dazzling victories. . . . An excellent account of the war." --Kirkus Reviews on Lee and Jackson

"To read [this] lively run-through of the events of a cataclysmic time is to be caught up again in the enormous vitality it engendered." -- Washington Post on Let the Good Times Roll

A History Book Club Selection
See More
Youth.

Lieutenant Magruder.

A Box in the National Theater.

"John Was Always Magnificent." Big Bethel.

Up the Peninsula.

The Seven Days.

Galveston.

"The People of Texas Have Made a Demi-god of Him." "You May Fully Depend on Me." Last Things.

Notes.

Bibliography.

Index.
See More
PAUL D. CASDORPH is Chairman Emeritus of the Department of History at West Virginia State College. He is the author of several books, including Let the Good Times Roll: Life at Home in America During World War II and the Civil War dual biography Lee and Jackson: Confederate Chieftains.
See More