How to Be a Great Communicator: In Person, on Paper, and on the Podium
ISBN: 978-0-471-16314-5
272 pages
October 1996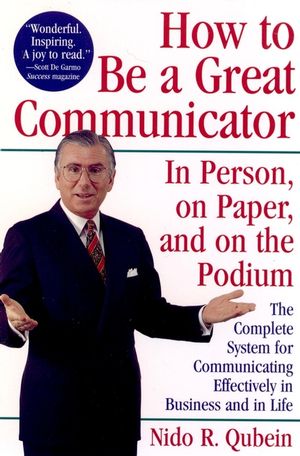 The author gives you the knowledge you need to excel at all types of business communication. He shows that all successful business communication, whether a speech from a podium or a face-to-face conversation, stems from the same basic principles. By using his Five Keys to Successful Communication anyone can unlock the potential to become a great communicator in any medium.
See More
ACQUIRING THE TOOLS OF COMMUNICATION.

Communication: The Requirement of a New Century.

The Keys to the Kingdom of Communication.

All Communication Is Personal.

The Messenger Speaks Louder Than the Message.

Choosing Your Words.

Communicating Without Words.

COMMUNICATING IN THE WORK PLACE.

Up, Down, and Across.

Communicating One on One.

Stop, Look--and Listen.

Avoiding the Gender Trap.

Cross-Cultural Communication.

Power Through Telecommunication.

Getting the Most from Meetings.

FOCUSING YOUR COMMUNICATIONS.

Focusing on the Right Audience.

Focusing Your Message.

Focusing Your Presentation.

Focusing Your Results.

PLATFORM POWER.

Preparing for Your Speech.

Communicating Through Images and Stories.

Captivating Your Audience.

Conquering the Barriers.

Epilogue.

Notes.

Index.
See More
NIDO R. QUBEIN, chairman of an international consulting firm, Creative Services, Inc., based in High Point, North Carolina, is a recipient of the highest awards given to professional speakers, including the Cavett, the "Oscar" of professional speaking, and the Council of Peers Award of Excellence. He serves on a dozen corporate and university boards.
See More