Quantum Mechanics, Volume 1
ISBN: 978-0-471-16433-3
914 pages
January 1991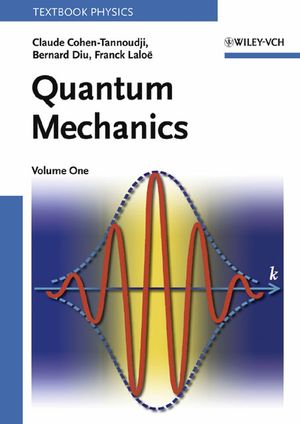 This didactically unrivalled textbook and timeless reference by Nobel Prize Laureate Claude Cohen-Tannoudji separates essential underlying principles of quantum mechanics from specific applications and practical examples and deals with each of them in a different section. Chapters emphasize principles; complementary sections supply applications. The book provides a qualitative introduction to quantum mechanical ideas; a systematic, complete and elaborate presentation of all the mathematical tools and postulates needed, including a discussion of their physical content and applications.
The book is recommended on a regular basis by lecturers of undergraduate courses.

See More
Waves and Particles.
Introduction to the Fundamental Concepts of Quantum Mechanics.
The Mathematical Tools of Quantum Mechanics.
The Postulates of Quantum Mechanics.
Application of the Postulates to Simple Cases: Two Level Systems and Spin 1/2 Systems.
The One Dimensional Harmonic Oscillator.
General Properties of Angular Momentum in Quantum Mechanics.
Particles in a Central Potential.
The Hydrogen Atom.
See More
Claude Cohen-Tannoudji, born in Constantine (Algeria) in 1933, studied at the École Normale Supérieure in Paris, where he received a postdoctoral lecture qualification in 1962. In 1973 he was accepted at the Collège de France, and in 1981 became a member of the Academy of Sciences. In 1997, Claude Cohen-Tannoudji was awarded the Nobel Prize in Physics for his research on laser cooling of neutral atoms (together with Steven Chu and William D. Phillips). The method is relevant for the development of precise atomic clocks, which are used for positioning and navigation. His is currently affiliated to the Laboratoire de Physique at the École Normale Supérieure.
His textbook on quantum mechanics, written together with Bernard Diu und Franck Laloë, is one of the best-known timeless standard references in this field and is recommended on a regular basis by lecturers of undergraduate courses.

See More