Textbook
Bank Management: Text and Cases, 5th Edition
ISBN: 978-0-471-16960-4
700 pages
December 1998, ©1999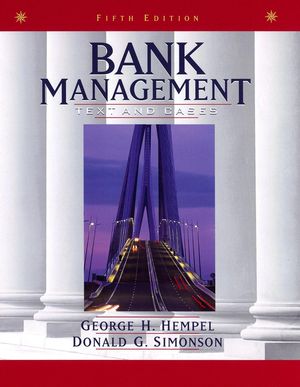 This text is intended for use in a junior/senior/graduate level course in Commercial Bank Management or Financial Institution Management taught at most four-year schools out of the finance department. The authors aim to present the institutional setting of banking in a framework that recognizes the vast bridge to financial markets and theory.
See More
MEASUREMENT, ANALYSIS AND THEORY OF VALUE CREATION.

The Changing Nature of Banking in the U.S.

Understanding a Bank's Financial Statements.

Evaluating a Bank's Returns, Risks and Overall Performance.

Foundations of Value in Banking.

Asset and Liability Management and the Yield Curve.

ASSET, LIABILITY, AND CAPITAL DECISIONS.

The Acquisition and Cost of Bank Funds.

Measuring and Providing Reserves and Liquidity.

Managing the Security Portfolio.

Managing Bank Capital.

MANAGING LOANS AND THE LOAN PORTFOLIO.

The Bank Credit Organization.

Credit Selection, Underwriting and Portfolio Diversification.

Consumer Lending.

HEDGING AND PRICING WITH DERIVATIVES AND INTERNATIONAL BANKING.

Financial Futures and Forwards: Hedging and Pricing.

Interest Rate Options: Hedging and Pricing.

Interest Rate Swaps: Hedging and Pricing.

International Banking.

Index.
See More
New Chapter Four provides a thorough introduction to valuation in banking based on fixed-income and business finance theory.
New Chapter Five extends and carefully paces the analysis of asset and liability management with emphasis on insights about its interaction with yield curve behavior.
Chapters 13, 14, and 15 present the complete analytics of forwards, futures, options, and interest rate swaps and the markets in which these instruments trade. Derivative products are integrated into bank hedging and product pricing.
Includes new technical appendices to the five new chapters with banking applications that provide potential for graduate projects.
Chapters on credit reduced from four to three, all chapter are based on the unifying model that clarifies the structure and step-wise management of bank credit risk.
Seven new cases added, including inside looks at actual applications of derivatives to manage banking products, balance sheet structure, and currency risk.
New end of chapter problems include student-tested computational problems to encourage active learning.
See More
Instructional Flexibility. Bank management instructors vary in their approaches to teaching this course, and this text includes elements of business financial theory, along with practical institutional material that distinguishes financial businesses from non-financial ones.
Practical Content. The authors use end of chapter problems and case exercises to show students that the course goes beyond computation to require analysis and critical thinking skills.
Flexibility in Level of Presentation. Chapters progress from patient introductions of fundamentals to more challenging applications and then to appendices that contain advanced and often rigorous concepts and applications.
See More
Instructors Resources
Contact your Wiley Representative
Find Your Rep

See More
See Less