Textbook
The Computer Triangle: Hardware, Software, People, 2nd Edition
ISBN: 978-0-471-16965-9
360 pages
October 1996, ©1997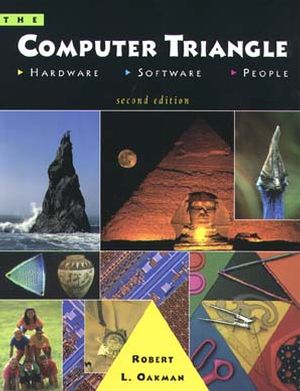 Applications of computers abound in all areas of modern life. Yet with all the benefits that computers offer people have come new worries associated with the spread of technology: impersonalization, government snooping, automation and downsizing. Hardware and software innovation brought both good and bad consequences for society. This interconnectivity of the three elements, the interdisciplinary nature of the machine and its effects on those who use it -- these are major focuses of this book.
See More
* Computer Literacy: A Current Perspective
* Computers in Society: The Positives
* Computers in Society: The Drawbacks
* Computer Hardware
* Computer Software
* Word, Text, and Sound Processing
* Electronic Spreadsheets
* Databases
* Computer Graphics and Video
* Networks, Communications, and the Internet
* Artificial Intelligence
* Computers and the Future
See More
The most significant addition to the Second Edition of The Computer Triangle is the full treatment of the widespread impact of the Internet in all areas of modern technology. The importance of the Internet in all sections is featured by a new marginal icon in the text.
New topics have been introduced in every chapter, including multimedia and World Wide Web materials in education, the role of computers in downsizing, rapid applications development tools, voice command systems, caller ID services, QuickTime VR, commerce and security on the Internet, implications of the Telecommunications Act of 1996, and the possibilities of network computers.
Self-paced student exercises exploring the World Wide Web and included with the CD-ROM Web transparencies which accompany this new edition.
See More
Highlights the place of the computer in education of students in all disciplines.
Treating the computer as a general information-processing tool, not just a number cruncher or an accounting machine.
Presents a generic treatment of all major applications software -- word processing, spreadsheets, databases, and graphics.
Includes a wide choice of examples of the role of computers in all areas of modern life -- education, medicine, media, business, government, humanities, sciences, art, and the movies.
Presents an understanding the negative as well as the positive social consequences of using the computer.
See More
Instructors Resources
Wiley Instructor Companion Site
Coming Soon!
View Sample content below:
See More
See Less
Students Resources
Wiley Student Companion Site
Coming Soon!
View Sample content below:
See More
See Less