Critical Issues in Fund Raising (AFP/Wiley Fund Development Series)
ISBN: 978-0-471-17465-3
266 pages
February 1997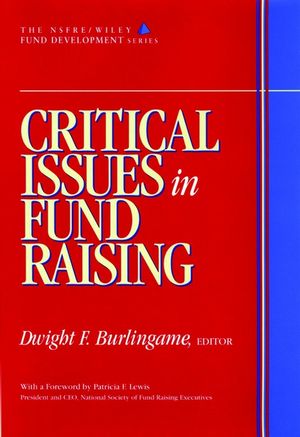 Many forces from demographics to politics to business trends shape the nonprofit sector and the practice of fund-raising, but little attention has been given to the premises underlying many of the decisions fund-raisers make in their daily professional lives. This book examines the impact of different factors on this growing and changing field. Addresses the most pressing issues facing fund-raising professionals today. Discusses donors, innovative fund-raising, marketing, financial management, ethics, international philanthropy, and the fund-raising profession.
See More
Partial table of contents:

PROFESSIONAS AND NONPROFITS.

And We Will Teach Them How: Professional Formation and Public Accountability (P. Pribbenow).

FUND RAISERS, ETHICS, AND EQUITY.

The Fund Raising Profession (M. Duronio).

Respecting the Individual, Valuing Diversity: Equity in Philanthropy and Fund Raising (M. Fischer).

GIVING.

The Demographics of Giving Patterns (J. Wolpert).

Inclination, Obligation, and Association: What We Know and What We Need to Learn about Donor Motivation (P. Schervish).

From Motivation to Mutual Understanding: Shifting the Domain of Donor Research (K. Kelly).

FINANCIAL AND MANAGMENET PERFORMANCE.

Costs and Performance Measurements (J. Greenfield).

U.S.

Models and International Dimensions of Philanthropic Fund Raising (L. Wagner).

REGULATION.

On the Regulation of Fund Raising (R. Steinberg).

WHAT'S NEXT.

Bowling Together: Fund Raising Practices and Civic Engagement (J. Pratt).

Appendix.

Index.
See More
DWIGHT F. BURLINGAME, PhD, CFRE, is the Director for Academic Programs and Research at the Indiana University Center on Philanthropy and a Professor in the Graduate School, Philanthropic Studies and School of Public and Environmental Affairs. He holds degrees from Moorhead State University, the University of Illinois, and Florida State University. He is a member of the NSFRE Research Council and is also Treasurer of ARNOVA. Dr. Burlingame is active in the nonprofit community and a frequent speaker, consultant, and author on topics relating to philanthropy, libraries, and development.

Dr. Burlingame has authored and coauthored seven books, more than 30 articles and more than 100 book reviews. His most recent works include Corporate Philanthropy at the Crossroads and Capacity for Change? The Nonprofit World in the Age of Devolution.
See More
More in this series