Textbook
A l'aventure: An Introduction to French Language and Francophone Cultures, Audio Program Cassettes to acompany the Workbook and Laboratory Manual
ISBN: 978-0-471-17488-2
March 1998, ©1998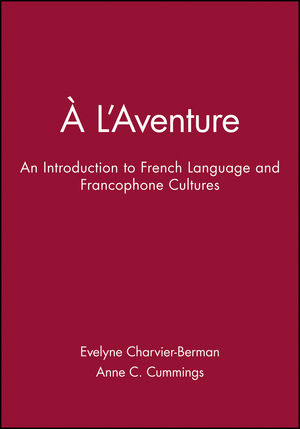 This book uses lively characters with exciting adventures to engage readers in real-life problem solving activities. It features a combination of traditional grammar practice and communicative activities.
See More
An innovative visual approach, presented in the classic form of a French bande dessinée created especially for the book by a native French cartoonist. Each Episode is illustrated by four colorful panels that help explain the story while providing a culturally authentic environment.
Myriad opportunties to develop cultural understanding. Often seeded in the story, cultural information about daily life in France is developed through Vous êtes branchés sections, while a broader view of Francophone countries and cultures is found in the Rencontres sections.
A clear, easy-to-use presentation of language structures that students can use on their own.
Thematic vocabulary, which is acquired through multiple progressive uses. Enticing illustrations introduce much of the new vocabulary and give students contexts in which to practice it. Vocabulary seeded in the story and/or presented in Pour s'exprimer and Mots à utilser sections is used by students in communicative activities, interviews, or follow-up written assignments.
Il y un problème and À vous de jouer sections that allow students to develop critical thinking skills as they make choices that are culturally and linguistically authentic.
A completely integrated program of print and other media. À l'Aventure offers great flexibility and is designed to bring diversity to each class period. It provides stimulating pacing and rhythm through teacher-student interaction, pair work, and group work.
See More