What If: Mind-Boggling Science Questions for Kids
ISBN: 978-0-471-17608-4
192 pages
April 1998, Jossey-Bass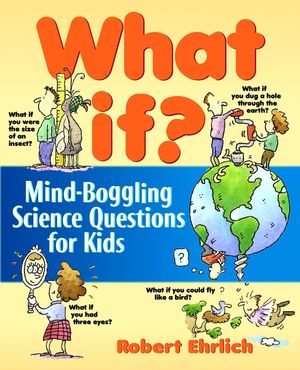 What if the earth were square?

Discover the amazing answers to some cooland weird questions about our world
* What if the earth stopped spinning?
* What if we could see sounds?
* What if the moon fell down?
* What if aliens landed and only wanted to talk to dogs?


Bizarre brainteasers and ingenious inquiries set the stage for a fantastic foray into the wacky world of real science. The intriguing topics range from plants and animals to light and sound, from the wind and the weather to the planets and the stars. Captivating cartoons and quick, fun-filled experiments will stretch your mind and your imagination.
See More
Big, Blue, Spinning Ball: The Earth.

It's Raining Frogs: Weather and Climate.

What's the Matter with Matter?: Forces and Energy.

Are You Seeing Things?: Light and Sound.

Into the Wormhole: Time.

Candle Clocks and Supercomputers: Inventions.

Smart Pigs and Pet Dinosaurs: Plants and Animals.

The Amazing, Changing Me: People and Animals.

The Superstar and the Big Cheese: The Sun and the Moon.

Nonstop Flight to Neptune: Visiting Other Planets.

Beam Me Up: The Stars and Beyond.

Glossary.

Index.
See More
ROBERT EHRLICH is a physics professor at George Mason University. He is the author of The Cosmological Milkshake, What If You Could Unscramble an Egg?, and Why Toast Lands Jelly Side Down.
See More