Trading on Expectations: Strategies to Pinpoint Trading Ranges, Trends, and Reversals
ISBN: 978-0-471-17782-1
232 pages
April 1997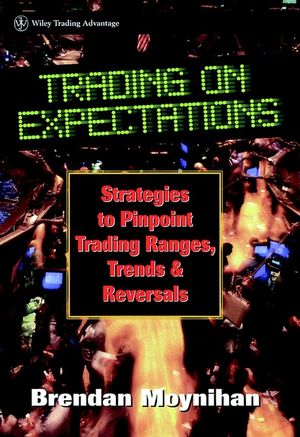 Successful traders know that before stepping into the wilderness of the speculative markets, you need a solid understanding of basic market behavior. But the conventional methods often fall short of providing this basic knowledge. Academics assert one thing, economists and fundamental analysts another, and technicians something altogether different. And, seemingly, none of them agree with each other.

Trading on Expectations explores the ideas behind the dominant schools of analysis, and shows the validity of each and demonstrates how each, albeit at different times, reflects what the market is doing. Sometimes market prices can be predicted using the economists' models; sometimes prices follow a "random walk" as the academics claim; at other times price is responding to the patterns, trendlines, and breakout levels identified by technicians.

In this groundbreaking new book, Brendan Moynihan draws on his experience as a trader, analyst, and researcher to develop a method that focuses on the prime mover of prices and incorporates the strengths of the conventional methods. Drawing on the participant-focused Chicago Board of Trade Market Profile and the psychologically focused Contrary Opinion, he synthesizes and modifies the best in these different methods and skillfully creates a single model of market behavior --the Sentiment-Activity Model.

Moynihan carefully describes how the combination of participants' actions and expectations about the future determines the direction of prices in the markets. This dynamic interaction between actions and expectations explains the emergence of the dominant phases of the markets: price trends, trading ranges, and trend reversals. What's more, Moynihan's unique model enables you to pinpoint the combinations of activity and sentiment that determine the three states of the market as they unfold, in time frames ranging from a single day to several weeks or months. The Sentiment-Activity Model also provides a way to determine how the market is likely to respond to various news items, explaining the apparent anomalies of price behavior in the process. To document his finding, Moynihan provides illuminating applications over a multimonth time period to four markets: Treasury bonds, soybeans, deutsche marks, and crude oil.

Offering a new, more powerful way of understanding the dynamics of market behavior, Trading on Expectations is a must-read for all traders in stocks, options, and futures.

"Brendan Moynihan has studied the 'real' economists and found the truth about how human action and individual motivations determine market prices. Trading on Expectations combines the best of the traders' economic and technical tools. I recommend this book to anyone who wants to learn how to trade more successfully." --Brian S. Wesbury Chief Economist Griffin, Kubik, Stephens & Thompson and former chief economist Joint Economic Committee of the United States Congress

"In today's fast-forward society, readers of this book can quickly absorb the real essence of Trading Reality that takes years to understand. In fact, many traders have come and gone without realizing how successful traders operate. It could take years to gather the perspectives of this book. The Hightower Report plans to use the book for training its analysts!" --David C. Hightower, Editor The Hightower Report

"Where most market texts simply reheat and serve the same old approaches, Trading on Expectations offers a fresh perspective by combining the best of several market disciplines into a logical theory and workable system for trading all financial markets." --Michael Zentz Director of Fixed Income Research Pegasus Econometric Group
See More
Economics.

Psychology.

Expectations.

Sentiment.

Markets.

Market Activity.

Long-Term Market Activity.

The Coherent Market Theory and the Sentiment-Activity Model.

Application of the Sentiment-Activity Model.

Treasury Bonds.

Soybeans.

Deutsche Mark.

Crude Oil.

Conclusion.

Appendix.

Notes.

Bibliography.

Index.
See More
BRENDAN MOYNIHAN is a foreign exchange trader at First American National Bank. He has worked as a commodities trader, a cash bond trader, and a risk management consultant to several Fortune 500 companies. He designed an economics course for Vanderbilt University and is currently writing a textbook based on the course.
See More