Target U.S.A.: The Inside Story of the New Terrorist War
ISBN: 978-0-471-17829-3
Hardcover
224 pages
April 1998
US $19.95

Add to Cart
This price is valid for United States. Change location to view local pricing and availability.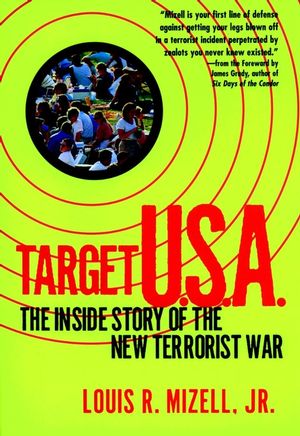 "Many Americans still believe that terrorism plagues only other nations, places such as Jerusalem and Beirut, Belfast and London, Tokyo and Paris, Berlin and Bogotá. Not here, not in the United States, they think. Their perception is dead wrong." —from the Introduction
An enemy with a thousand faces has declared war on the United States, and the fighting has already commenced. The battlefields are neither deserts nor tropical jungles, but office buildings, hotels, churches, airports, and even quiet suburban streets. The enemy soldiers, rarely in uniform, are virtually invisible.
The war is terrorism and, as the Oklahoma City and World Trade Center bombings have so chillingly shown, it is unlike any other threat the United States has ever encountered. In this riveting frontline report, renowned counterterrorism expert Louis R. Mizell tells the inside story of the escalating terrorist war in America. Drawing on his firsthand experience as an intelligence officer with the U.S. State Department, Mizell details the methods, the motives, and the tactics of extremist groups and individuals while revealing the big picture that most of the media either misses or ignores.
Target U. S. A. is a vivid, fast-paced narrative filled with chilling accounts of terrorist acts from around the country. Mizell paints a hardhitting portrait of a once shielded society that is no longer a safe haven. The facts are documented, disturbing, and alarming: Puerto Rican terrorists planted a bomb in a New York tavern, killing five; Sikh terrorists systematically assassinated targets in the Midwest; a team of Libyan terrorists set up a secret training camp in Colorado; and Croatian terrorists committed scores of violent acts that were reported as street crime. Shocking you-are-there accounts expose undercover terrorist actions at universities, hotels, restaurants, and banks, as well as brazen, broad daylight assassination attempts on political leaders.
Using professional sources unavailable to most researchers, Mizell provides up-to-date information on established foreign and domestic groups, new emerging operations, and current targets, trends, and tactics in terrorism —information the general public never sees. Particularly provocative is his report on how many unpublicized terrorist operations occur almost daily on American soil, often appearing as routine bank robberies or gun shop burglaries.
With special access to interrogation reports, confiscated documents, and other previously untapped confidential materials, Mizell supplies profiles of terrorists —the nationalists, the ideologues, the religious zealots, and the unaffiliated loners —that will change the way you read the news.
If it is true that the best defense of democracy is an informed citizenry, Target U. S. A. is urgent, compelling, and essential reading for all Americans.
"Shattering the talking-head world of touchie-feelie pseudoacademics and wannabe counterterrorists, Lou Mizell's ground-level lessons from the real world give us an accurate, frightening look at some of the world's most resourceful, enterprising, and deadly terrorists. Mizell is a warrior who has put his life on the line, and his experience can help teach us how to survive these nasty, nasty times." —John Weisman, author of the New York Times bestselling Rogue Warrior series.
"Mizell writes from his own experience, which is the stuff of suspense fiction, except it's all real. We all need to pay attention to what he has to say before it's too late."—Mark Olshaker, novelist and coauthor of Mindhunter and Journey into Darkness.
"Effective security depends upon good intelligence. Lou Mizell understands this better than anyone. He has smelled the cordite and walked amidst the shattered glass and shattered lives. Every reader could learn from Lou's experience." —Donald E. Moss, Deputy Chief, NYPD, Retired Former Chief of Bronx Detectives.
"Target U. S. A. provides essential knowledge of domestic terrorist activities for all law enforcement personnel. Lou Mizell has provided a spellbinding summary of the current threat to our nation. This book is a must read." —Lieutenant Colonel Matt Tyszka, Connecticut State Police.