Molecular Infection Biology: Interactions Between Microorganisms and Cells
ISBN: 978-0-471-17846-0
339 pages
October 2002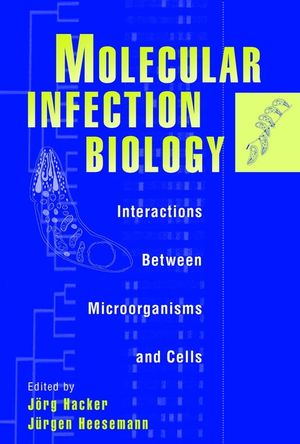 This comprehensive volume focuses on molecular methods and principles of prokaryotic and eukaryotic pathogens. The authors present the molecular and cellular aspects by focusing on the interactions between pathogenic microorganisms and their hosts. The publication begins with an overview of the most important and dangerous causative agents of infectious diseases. Next are discussions of how microbial "weapons," pathogenicity factors, protein secretion machines, and surface variation systems work, presenting the molecular and genetic methods that are used by scientists for their discovery and analysis. Furthermore, infectious diseases are discussed in light of the newly formed research areas of evolutionary and cellular microbiology and genomics. Future aspects on diagnostic techniques, therapy, and vaccine development are also presented.
See More
Foreword (J. Kaper).

Acknowledgments.

Contributors.

Introduction (J. Hacker & J. Heesemann).

Medically Significant Pathogens (J. Heesemann & J. Hacker).

Host Defenses Against Microorganisms--Nonspecific Defenses (J. Heesemann).

The Adaptive Immune System (J. Heesemann).

Symbiosis, Infection, and Pathogenicity (U. Hentschel & J. Hacker).

Offensive Pathogenicity Factors (J. Hacker).

Defensive Pathogenicity Factors (R. Haas & M. Hensel).

Nonspecific Pathogenicity Factors (J. Hacker).

Protein Secretion Systems (J. Heesemann & T. Ölschläger).

Microbial Surface Variation and Pathogenicity (J. Morschhäuser).

Regulation of Virulence-Associated Genes (J. Morschhäuser).

Infection Ecology (J. Hacker).

Parallels Between Plant and Human Pathogens (J. Hacker).

Evolutionary Infection Biology (J. Hacker).

Cellular Microbiology (T. Ölschläger & J. Heesemann).

In Vivo Expression of Pathogenicity (M. Hensel).

Genomics, Transcriptomics, and Proteomics (J. Reidl & J. Hacker).

Molecular Diagnosis and Epidemiology (J. Hacker & J. Heesemann).

Therapeutic Problems with Infectious Diseases (W. Ziebuhr).

The Development of Vaccines (J. Heesemann).

Infection Models (J. Hacker).

Future Developments (J. Hacker & J. Heesemann).

Methods of Molecular Infection Biology (J. Hacker).

Appendix.

Index.
See More
"...a comprehensive and up-to-date introduction to this new area of study...an excellent and valuable reference..." (
ASM News
, December 2003)
"...Investigators, specialists, clinicians and graduate students in biology, pharmacy and medicine will find this book an invaluable reference material." (CAB Abstracts)
"...this is an excellent Medical Microbiology textbook, certainly among the best available today." (Cell)
"...I have already begun recommending the book to our postgraduate students engaged in research..." (Microbiology Today)
"...concise and accurate...this book will be particularly illuminating for students and young scientists who wish to understand the mechanisms of infectious diseases." (Philippe Sansonetti, Unite de Pathogenie Microbienne Moleculaire, Institut Pasteur, France)
See More
Buy Both and Save 25%!
Molecular Infection Biology: Interactions Between Microorganisms and Cells (US $119.50)
-and- Modern Microbial Genetics, 2nd Edition (US $240.95)
Total List Price: US $360.45
Discounted Price: US $270.33 (Save: US $90.12)
Cannot be combined with any other offers. Learn more.