Building an Extranet: Connect Your Intranet with Vendors and Customers
ISBN: 978-0-471-17910-8
Paperback
326 pages
June 1997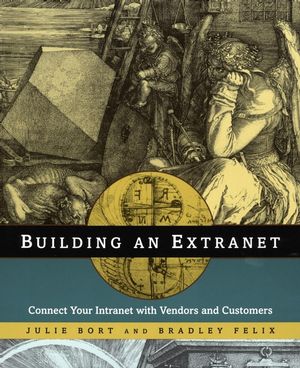 This title is out-of-print and not currently available for purchase from this site.
Expand your intranet to communicate directly and securely with your customers and suppliers
Want to set up a Web page to automatically obtain bids from suppliers . . . invoice customers . . . conduct secure electronic transactions? . . . Find out how in Building an Extranet.
The next wave in enterprise networking, extranets offer companies an exciting new way to leverage their investments in intranet technology. Functioning like private networks within the Internet, extranets enable companies to share information and selected applications with customers and suppliers and to conduct electronic commerce transactions —safely, securely, and inexpensively.
The first complete, practical guide to understanding, building, and administering extranets, Building an Extranet arms you with all the background information, practical guidance, and source code you need to:
Decide if an extranet is right for your company
Calculate the costs and ROI of investing in the technology
Determine which tools you'll need to create an extranet
Create an extranet tailored to your company's needs
Build applications that let customers check on or create an order, allow suppliers to create bids, and more