HPLC Methods for Pharmaceutical Analysis
ISBN: 978-0-471-18176-7
1632 pages
June 1997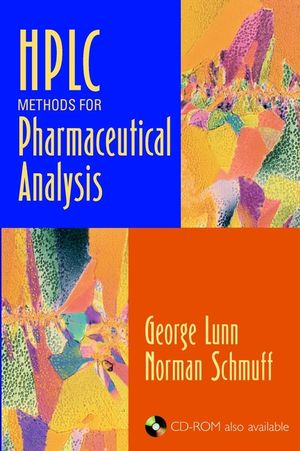 Lets you target the specific information you need quickly and easily -so you can stay in the lab and out of the library.
This invaluable database -available in print and electronic form -gives you fast, hands-on access to the most significant literature available on HPLC for the analysis of over 150 of the most frequently prescribed pharmaceutical compounds. Combining full descriptions of procedures with specially annotated references, HPLC Methods for Pharmaceutical Analysis helps you to identify the techniques that are relevant to your individual project needs -eliminating hours of tedious, time-consuming library research. Analytical chemists and researchers will find a battery of useful features that make this practical new resource a welcome addition to their reference library: Techniques for each compound are described in detail -enabling replication of a procedure without reference to the original publication
* Detailed procedures for each drug are listed together -making it easy to combine features of different methods into a customized approach
* Drug assay methods are provided for drugs in biological fluids such as blood or urine, as well as for bulk and formulated drugs
* Other key information includes chemical structures, molecular weights and formulas, CAS Registry Numbers, and cross-references to The Merck Index and Chemistry of Drug Synthesis
The electronic version, available on CD-ROM, allows you to search the entire database by compound, matrix, HPLC variables, and author.
See More
Preface.

About This Book.

Acetaminophen.

Acyclovir.
Adiphenine.
Albuterol.

Alprazolam.

Alteplase.

Amitriptyline.

Amlodipine.

Amoxicillin.

Ampicillin.
Aspirin.

Astemizole.

Atenolol.
Atropine.

Azathioprine.

Azithromycin.
Beclomethasone Dipropionate.
Benazepril.

Betamethasone.

Bromocriptine.

Buspirone.
Butalbital.

Captopril.
Carbamazepine.

Carboplatin.
Carisoprodol.

Cefaclor.

Cefadroxil.

Cefixime.
Cefotaxime.
Cefprozil.

Ceftazidime.

Ceftriaxone.

Cefuroxime.

Cephalexin.

Cilastatin.

Cimetidine.

Ciprofloxacin.

Cisapride.

Clarithromycin.

ClavulanicAcid.

Clindamycin.

Clonazepam.

Clotrimazole.

Clozapine.
Codeine.

Cromolyn.

Cyclobenzaprine.

Cyclosporine.

Desogestrel.

Diazepam.

Diclofenac.
Dicyclomine.

Digoxin.

Diltiazem.
Doxazosin.

Doxycycline.

Enalapril.

Epoetin.
Erythromycin.

Estradiol.

Estrogens, Conjugated.

Ethinyl Estradiol.
Ethynodiol Diacetate.

Etodolac.
Etoposide.

Famotidine.

Finasteride.
Fluconazole.

Fluoxetine.

Flutamide.

Flovastatin.

Furosemide.

Gemfibrozil.

Glipizide.

Glyburide.

Goserelin.
Guaifenesin.

Hydrochlorothiazide.
Hydrocodone.

Hydrocortisone.

Ibuprofen.

Imipenem.
Indapamide.

Insulin.

Interferon.

Ipratropium Bromide.

Ketoconazole.
Ketoprofen.
Ketorolac.

Leuprolide.

Levothyroxine.

Lisinopril.

Loracarbef.
Loratadine.

Lorazepam.

Lovastatin.

Medroxyprogesterone Acetate.
Methylphenidate.

Methylprednisolone.
Metoprolol.

Midazolam.
Mometasone Furoate.

Mupirocin.

Nabumetone.
Naproxen.

Neomycin.
Nifedipine.

Nitrofurantoin.

Nitroglycerin.

Nizatidine.

Norethindrone.
Norgestrel.

Nortriptyline.

Ofloxacin.

Omeprazole.
Ondansetron.

Oxaprozin.

Oxycodone.

Paclitaxel.

Penicillin V.

Pentoxifylline.

Phenylpropanolamine.

Phenytoin.

Piroxicam.

Polymyxin.

Pravastatin.

Prednisone.

Promethazine.

Propofol.
Propoxyphene.

Quinapril.
Ramipril.

Ranitidine.
Retinoicacid.

Salmeterol.

Scopolamine.

Sertraline.

Simvastatin.

Somatropin.

Sucralfate.

Sulbactam.

Sulfamethoxazole.

Sumatriptan.

Temazepam.

Terazosin.

Terbinafine.

Terconazole.

Terfenadine.

Tetracycline.

Theophylline.

Timolol.

Tramadol.
Triamcinolone.

Triamterene.
Trimethoprim.

Valproicacid.

Vancomycin.
Venlafaxine.

Verapamil.

Warfarin.

Zidovudine.

Zolpidem.
Name Index.

Molecular Formula Index.

CAS Registry Number Index.

Cross Reference to The Merck Index.

Cross Reference to The Orgainic Chemistry of Drug Synthesis.
See More
GEORGE LUNN, PhD, a consultant and scientific writer, currently works for the FDA and is a former senior research scientist for Program Resources Inc., NCI, at the Frederick Cancer Research and Development Center in Maryland. He is the coauthor of Destruction of Hazardous Chemicals in the Laboratory, also published by Wiley.
NORMAN SCHMUFF, PhD, is currently Technical Project Leader for the Multiagency Electronic Regulatory Submission Project and a chemistry reviewer in the Division of Antiviral Drug Products of the Food and Drug Administration. His previous positions include manager of Chemical Information Services at Questel, Inc. and senior scientist at American Cyanamid's Lederle Laboratories.
See More