The Bioinorganic Chemistry of Nickel
ISBN: 978-0-471-18692-2
Hardcover
337 pages
October 1988
US $305.00

Add to Cart
This price is valid for United States. Change location to view local pricing and availability.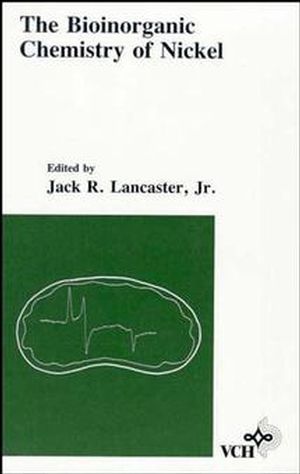 Chapter 1: The Coordination Chemistry of Nickel: An Introductory Survey

1.1. Introduction

1.2. The Element

1.3 Nickel(II) Complexes

1.4. Structure and Bonding

1.5. Ligand Effects

1.6. Four-Coordinate Complexes

1.7. Six-Coordinate Complexes

1.8. Polynuclear Species

1.9. Less Common Oxidation States

1.10. Non-Innocent Ligands

1.11. Dithiolene Complexes

1.12. Dynamic Properties

1.13. Conclusions

References

Chapter 2: Nickel(III) Chemistry and Properties of the Peptide Complexes of Ni(II) and Ni(III)

2.1. Introduction

2.2. Monopeptide Complexes of Nickel (III)

2.3. Bis(dipeptido) Complexes of Nickel(II) and Nickel(III)

2.4. Bis(tripeptido) Complexes of Nickel(III)

2.5. Nickel(III) Mixed-Ligand Complexes

2.6. Electron Transfer and Redox Reactions

References

Chapter 3: The EPR Spectra of Odd-Electron Nickel Ions in Biological Systems: Theory for d7 and d9 Ions

3.1. EPR Spectra of Biological Nickel

3.2. EPR of Nickel in Odd-Electron States

3.3. Crystal Field Theory and the EPR Spectra of d7 and d9 Ions.

3.4. Crystal Field Theory and Low-Symmetry Complexes

3.5. Tetrahedral Complexes

3.6. Conclusions

References

Chapter 4: Electronic and Molecular Structure of Biological Nickel as Studied by X-ray Absorption Spectroscopy

4.1. Introduction

4.2. Nickel Model Compounds

4.3. Nickel Enzymes

References

Chapter 5: Nickel in Biology: Nickel as an Essential Trace Element

5.1. Introduction

5.2. Role of Nickel in Bacteria

5.3. Role of Nickel in Plants

5.4. Role of Nickel in Animals

References

Chapter 6: Biological Transport of Nickel

6.1. Introduction

6.2. Vertebrate Nickel Transport

6.3. Nickel Transport in Plants

6.4. Microbial Nickel Transport

6.5. Nickel Transport by Other Biological Systems

6.6. Conclusions

References

Chapter 7: Urease-A Ni(II) Metalloenzyme

7.1. Historical Perspective

7.2. The Synthesis and Degradation of Urea

7.3. The Nickel Content of Urease and Jackbeans

7.4. Hydroxamic Acids and the Equivalent Weight of Urease

7.5. The Molecular Properties of Urease

7.6. Absorption Spectra

7.7. On the Mechanism of Action of Urease

7.8. Conclusion

References

Chapter 8: Nickel in Hydrogenases from Sulfate-Reducing, Photosynthetic, and Hydrogen-Oxidizing Bacteria

8.1. Introduction

8.2. Structure of Hydrogenases

8.3. Hydrogenase Activity

8.4. Electron Paramagnetic Resonance Spectra

8.5. Redox Properties of Hydrogenases

8.6. The Role of Nickel in Hydrogenase Catalysis

8.7. Concluding Remarks: Toward a Classification of the Nickel-Containing Hydrogenases

References

Chapter 9: (Ni, Fe)Hydrogenases from Sulfate-Reducing Bacteria: Nickel Catalytic and Regulatory Roles

9.1. Introductory Remarks

9.2. Native (Ni, Fe)Hydrogenases

9.3. Intermediate States Generated under H_2 Atmosphere

9.4. Nickel Chemistry in the Context of Its Biological Role

9.5. Mechanism of Hydrogenase Action-Activation and Catalytic Cycles

References

Chapter 10: Hydrogenases of Methanobacterium thermoautotrophicum strain H

10.1. Introduction

10.2. Methanogen Hydrogenases

10.3. Summary

References

Chapter 11: Methyl-S-Coenzyme-M Reductase: A Nickel-Dependent Enzyme Catalyzing the Terminal Redox Step in Methane Biogenesis

11.1. Introduction

11.2. In Vitro Methanogenesis

11.3. F_430

11.4. Electron Microscopy

11.5. Mechanistic Studies of Methyl Reductase

11.5.1. Alternative Substrates and Inhibitors

11.6. Conclusions

References

Chapter 12: Structure and Properties of Coenzyme F_430

12.1. Introduction

12.2. Structure of Coenzyme F_430

12.3. Reactivity at the Ligand Periphery

12.4. Reactivity at the Nickel Center

References

Chapter 13: Carbon Monoxide Dehydrogenase of Acetogens

13.1. Introduction

13.2. Properties of CO Dehydrogenase

13.3. Physiological Role of CO Dehydrogenase

References

Chapter 14: Nickel in CO Dehydrogenase

14.1. Introduction

14.2. CO Dehydrogenase: Physiological Role

14.3. Nickel and CO Chemistry Relating to CO Dehydrogenase Reactions

14.4. Properties of Nickel in CO Dehydrogenase

14.5. Why is Nickel in CO Dehydrogenase?

References

Index
Buy Both and Save 25%!
The Bioinorganic Chemistry of Nickel (US $305.00)
-and- Metals in Medicine (US $180.00)
Total List Price: US $485.00
Discounted Price: US $363.75 (Save: US $121.25)
Cannot be combined with any other offers. Learn more.