Experimental Techniques in Fracture
ISBN: 978-0-471-18865-0
514 pages
June 1993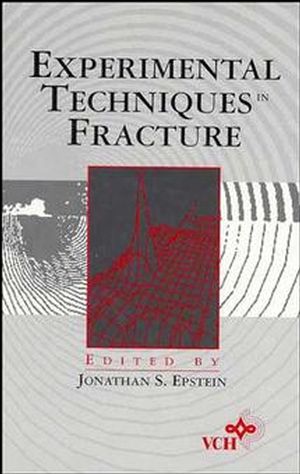 Experimental Techniques in Fracture is a part of series of standard references developed by the Fracture Committee of the Society for Experimental Mechanics and is intended for engineers and researchers who work in the field of mechanics.

The volume contains eleven chapters covering the developments in fracture techniques since 1975. Recognized authorities discuss their area of expertise, covering important developments in strain gauge methods in fracture, caustic and gradient optical techniques, temperature measurement methods, amplitude moiré and speckle interferometry in fracture, classic interferometry for out of plane measurement, acoustic emission methods, and crack-tip opening displacement methods. Each chapter begins with an outline of a specific technique in fracture mechanics, develops the technique in full when the method is relatively new, includes numerous examples applied to fracture, discusses future directions of the method, and concludes with an up-to-date reference listing.

This reference will bring the beginning researcher quickly up-to-date on developments in the field of experimental fracture, as well as serve as a handy reference for professionals, university researchers, and practicing field engineers.
See More
From the Contents:
The Role of the Electrical Resistance Strain Gauge in Fracture Research/
Micromechanics
Measurement Techniques for Fracture/
Accurate Measurement of Two- and Three-
Dimensional Surface Deformations for Fracture Specimens by Computer Vision/
On the
Use of Classical Interferometry Techniques in Fracture Mechanics/
Temperature Rise at the
Tip of Dynamically Propagating Cracks: Measurements Using High-Speed Infrared Detectors/
Acoustic Emission in Experimental Fracture Mechanics/
Crack-Tip Opening Displacement
Measurement Techniques/
Measurement of Three-Dimensional Effects in Cracked Body
Problems .. Moiré and Speckle Methods Applied to Elastic-Plastic Fracture Mechanics/
Two
Optical Techniques Sensitive to Gradients of Optical Path Divergence: The Method of
Caustics and the Coherent Gradient Sensor (CGS)/
Moiré Interferometry in Fracture Research
.. Index
See More