The International Cocoa Trade
ISBN: 978-0-471-19055-4
Hardcover
375 pages
July 1997
US $233.95

Add to Cart
This price is valid for United States. Change location to view local pricing and availability.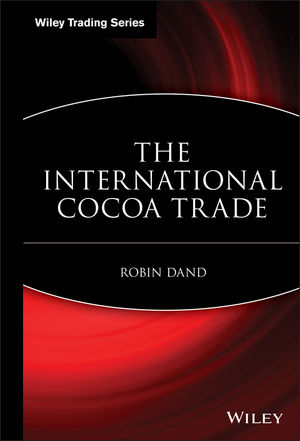 First imported to America more than five hundred years ago and propagated on a small scale until the eighteenth century, cocoa is now one of the most heavily traded food commodities in the world. While potentially very lucrative, trading in cocoa remains a highly complex—and risky—venture, rendered even more so today by a sweeping tide of changes that has dramatically altered its landscape. In The International Cocoa Trade, the first comprehensive resource of its kind, commodity expert Robin Dand provides an all-encompassing guide to the global cocoa industry, delineating and clarifying its various intricacies for all who operate and trade within it.
Far more sophisticated than it was just a decade ago, the cocoa market has undergone major shifts—low prices, a decrease in the number of companies trading, and an increase in risk levels—that have not only altered the manner in which its key players conduct business, but have necessitated a better grasp of industry fundamentals by all those involved in the production, trading, and distribution of cocoa. As Dand points out, "The requirement of understanding the cocoa trade is not limited to those in the string of buyers and sellers. There are others outside this chain that now have larger roles in cocoa than in the past, in particular the banks, but also the shipping companies and warehousekeepers."
In this complete resource, Dand helps all links in this "chain"—exporters, dealers, brokers, bankers—achieve a better understanding of the market by providing a complete and accessible survey of all its essential components. Casting a wide net, The International Cocoa Trade offers a wealth of information on a variety of important topics, including the history and agronomics of cocoa, exchange rules, trading procedures, prices, and contract specifications. Here's where you'll find in-depth coverage of:
Cocoa production—its history, evolution, and recent trends
Quality assessment—the cut-test, fault definition and standards, methods of achieving quality cocoa
The actuals market—export marketing, trade associations, marketing boards, processing
Terminal markets—organization of futures markets, players, trading techniques, options, strike prices, regulatory bodies
Contracts—weight and delivery terms, physical option contracts, forms and performance
Consumption and stocks—the uses of cocoa, factors affecting consumption, assessment of stock levels, visible and invisible stocks, the International Cocoa Organization and the Buffer Stock.
Packed with numerous charts, graphs, and tables, and supported by a complete appendix that covers such vital cocoa contracts as AFCC, CAL, and CMAA, The International Cocoa Trade provides an up-to-date and incisive overview of a market that has grown and changed considerably over the past few years. An indispensable resource for everyone involved in the international trade of cocoa.
"Over the past few years the cocoa market has had to alter its manner of operation. . . . [A]ll those in the chain of trade, from the exporter, dealer, broker through to the factory not only have to improve their understanding of the market but also some of the difficulties faced by others in the commodity. It is hoped that this book will help all involved in the international trade of cocoa to achieve this."—from the Preface.
The first comprehensive guide of its kind, The International Cocoa Trade provides an in-depth overview of one of the most heavily traded and lucrative commodities on the market, with complete details on:
The history and origins of cocoa
Agronomics and production
Consumption and stocks
Physical and terminal markets
Trade and contract rules
Quality assessment of beans
Cocoa bean processing
The manufacture of chocolate.