Senior Residences: Designing Retirement Communities for the Future
ISBN: 978-0-471-19061-5
352 pages
April 1998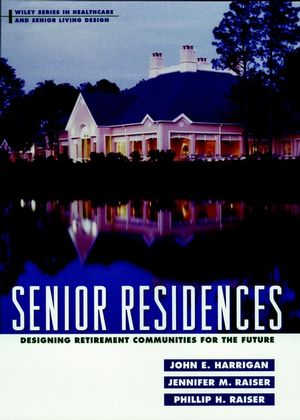 A comprehensive framework for capitalizing on the growing market for Continuing Care Retirement Communities.
Senior Residences equips architects and other industry professionals with a proven executive strategy for the design and development of successful Continuing Care Retirement Community (CCRC) projects. Using two of America's foremost CCRCs as best practice case studies, it guides readers through every critical aspect of the process, from research and planning through construction, including:
The enterprise concept
Formation of an executive organization
Financial and legal due diligence
Marketing and sales preparation
Residents' expectations and requirements
Healthcare and residential services
The design and build process
Project monitoring and assessment
The over-65 population is increasing rapidly and dramatically, raising crucial concerns about the housing and care of senior citizens in the years ahead. How can we provide the best possible quality of care to the elderly? How can architects, developers, and others capitalize on the growing senior housing industry and stay competitive in the future? How can the facilities they create deliver both good service and strong financial returns?
While there are no easy answers to these important questions, the Continuing Care Retirement Community (CCRC) model has emerged as a flexible and attractive option for providing combined housing, services, and nursing care to the elderly. Senior Residences equips architects and other industry professionals with a comprehensive, three-part strategic framework for designing and developing successful CCRC projects.
Part I identifies the eight critical success factors of a CCRC enterprise and illustrates them through an in-depth examination of two exemplary developments, The Cypress of South Carolina's Hilton Head Island and The Stratford in the San Francisco Peninsula. Part II details a computer-based "standard of performance" system to track progress and assess project performance. Finally, Part III examines how to use different types of research to stay on top of market trends and forecasts, legal and licensing requirements, and more.
Together, the three elements of this executive strategy cover every aspect of the development process, from the initial enterprise concept and executive organization building to financial and legal due diligence, marketing and sales, residents' services and healthcare, and design and build. Readers gain essential guidance in tackling key project management issues as well as in developing effective problem-solving and troubleshooting skills.
Written by an author team with extensive CCRC experience, Senior Residences helps encourage avenues of thought that will lead to more cohesive, responsive, and successful CCRC projects that benefit the professionals who build them and the residents who live in them.
See More
CRITICAL SUCCESS FACTORS.

The Cypress and The Stratford.

THE STANDARD OF PERFORMANCE.

An Open Process: A Way to Become Smarter Commentary.

STRATEGIC RESEARCH.

Benefits of Personal Involvement.

Appendices.

References.

Index.
See More
PHILLIP H. RAISER, MS Arch, is President of The Raiser Organization, a San Francisco Peninsula real estate development, general construction, and property management corporation, expert in managing equity CCRC enterprises through the entire life cycle, from concept to financing, design/build, and marketing.

JENNIFER M. RAISER, MBA, is President of Raiser Senior Services, with nationally recognized expertise in CCRC developments and acquisitions, residential service management, and human resource development.

JOHN E. HARRIGAN, PhD, is a Professor of Architecture emeritus at Cal Poly-San Luis Obispo, a Fellow of the Human Factors and Ergonomics Society, and senior author of The Executive Architect, also published by Wiley.
See More