Janice VanCleave's Teaching the Fun of Science
ISBN: 978-0-471-19163-6
212 pages
March 2001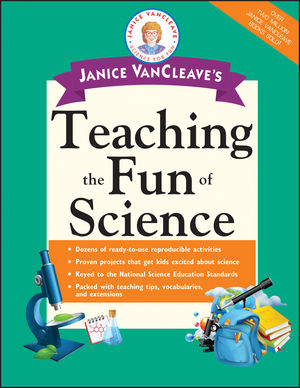 Make Learning Science Fun with this Essential Guide from Everyone's Favorite Science Teacher!
Now you can introduce children to the wonders of science in a way that's exhilarating and lasting. In Janice VanCleave's Teaching the Fun of Science, the award-winning teacher and popular children's author provides key tools to help you effectively teach the physical, life, and Earth and space sciences and encourage kids to become enthusiastic, independent investigators. Each science concept is presented with hands-on activities, teacher tips, key terms, and much more, including:
* reproducible sheets of experiments and patterns
* lists of expectations based on National Science Education Standards and Benchmarks
* advice on preparing materials and presenting each topic
* dozens of suggestions for extensions
As with all of Janice VanCleave's books, the format is easy to follow and the required materials are inexpensive and easy to find. With Janice VanCleave's Teaching the Fun of Science you can inspire, challenge, and help your students to develop a lively and lifelong interest in science.
"Janice VanCleave's books are so popular that they are some of the books we check out most often. . . . Our student teachers and new teachers often comment about how useful the VanCleave books are."-Janet Jordon, Purdue University
"Ms. VanCleave's presentation of the application of the scientific process is truly beyond compare. . . . She is able to set high standards for children without mystifying the subject. . . . [A] talented author and spectacular teacher."-Kristen Parks, Education Director, The Discovery Science Place
"People often tell me how great my science lessons are. I always admit that the lessons come straight from Janice VanCleave's books. . . . Everyone in my class gets excited when it's science time!"-Laura Roberts, elementary school teacher, Louisville, KY
See More
Dedication/Acknowledgments.

From the Author.

Guidelnes for Using Science Investigations Successfully in the Classroom.

SCIENCE AS INQUIRY.

PHYSICAL SCIENCE.

Properties and Changes of Properties in Matter.

Forces and Motion.

Energy.

LIFE SCIENCE.

Structure and Function in Living Systems.

Reproduction and Heredity.

Behavior.

Ecosystems and Populations.

Diversity and Adaptations of Organisms.

EARTH AND SPACE SCIENCES.

Structure of the Earth System.

Earth in Space.

Appendix 1: Graduated Cylinder.

Appendix 2: Thermometer.

Appendix 3: Sources of Scientific Supplies.

Glossary.

Index.
See More
JANICE VANCLEAVE is a former award-winning science teacher who now spends her time writing and giving science workshops. She is the author of over forty books with sales totaling over 2 million copies.
See More