Wildland Recreation: Ecology and Management, 2nd Edition
ISBN: 978-0-471-19461-3
376 pages
September 1998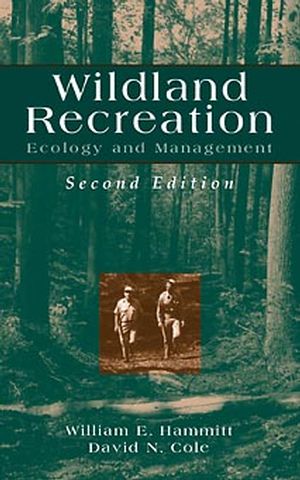 Wildland Recreation

An authoritative guide to managing the ecological impacts of recreational activities on natural resources.

The challenges facing today's recreation resource managers are both complex and daunting. Accommodating rapidly growing numbers of recreational visitors without sacrificing the ecological integrity of wildlands is a major challenge. Determining and planning for the limits of acceptable change and expanding services with little or no growth in natural resources or funding are major issues.

Wildland Recreation, Second Edition provides solutions to these and other crucial recreational resource problems. Based upon its authors' extensive firsthand experience as well as their exhaustive review of the world literature on the subject, it provides up-to-date, detailed coverage of today's wildland recreation management issues, including:
* Ecological impacts of recreational activities on wildland resources
* Spatial and temporal patterns of recreational impacts
* Environmental durability, visitor use, and other key factors
* The limits of acceptable change, long-term monitoring, and impacts on wildlife
* Social and economic factors associated with managing impacts
* Alternative approaches to wildland recreation resource management
* Recent trends in satisfying increased demand for outdoor recreational opportunities
* International perspectives on recreational wildland management and ecotourism


Like its best-selling predecessor, Wildland Recreation, Second Edition is a valuable working resource for wildland recreation management professionals and a comprehensive course text for students of forest and natural resources recreation, park management, environmental conservation, and related disciplines.
See More
Wildland Recreation and Resource Impacts.

IMPACTS TO RESOURCE COMPONENTS.

Soil.

Vegetation.

Wildlife.

Water.

IMPACT PATTERNS AND TRENDS.

Impact Patterns.

Trends in Wildland Recreation Use and Impacts.

FACTORS AFFECTING IMPACTS.

Environmental Durability.

Visitor Use.

MANAGEMENT ALTERNATIVES.

Strategies and Concepts of Management.

Monitoring Recreational Impacts.

Visitor Management.

Site Management.

International Impact Research and Management.

CONCLUSION.

A Lasting Impact.

Index.
See More
WILLIAM E. HAMMITT, PhD, is a professor of wildland recreation in Clemson University's Department of Forest Resources and Department of Parks, Recreation, and Tourism Management.

DAVID N. COLE, PhD, is a research biologist with the Aldo Leopold Wilderness Research Institute at the Rocky Mountain Research Station of the U.S. Department of Agriculture's Forest Service.
See More